ArtOnWheels art transporter no.19 hits the road with artwork by Kayley Edwards!


 
On March 8th, 2022, National Women's Day, we announced that Kayley Edwards had been chosen to be our next #ShipArt #ArtOnWheels van wrap artist …

We are delighted to report that the vehicle is now ready, on the road, and looking fabulous. We are also thrilled to finally be able to show you the artwork-based wrap in its entirety. It has been extremely hard to keep it a secret.




Artwork by Kayley Edwards used for the wrap


About the artwork and wrap
Four separate pieces of art make up the whole wrap designed by Flight Logistics: 3Face, Faceoff, Purple Heart, and Blue Heart were painted by Kayley using acrylic paint on canvas. Flight Logistics engaged with talented artist/photographer Gina Soden (well known for her photographs of abandoned buildings across Europe) to help take the high-res digital photos of the artwork needed for the design and final wrap print.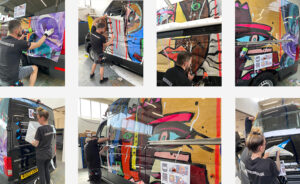 Work in process pictures from Joyce Design


Flight Logistics delivered a brand-new black VW Crafter MWB to Joyce Design's studio on Thursday the 5th of May and on the 6th, Joyce started wrapping it.


About the artist
At the beginning of 2022, Kayley's talent and courage came to Flight Logistics' attention and earned her a place in our hearts and on this our latest art transporter. Kayley is currently challenging a diagnosis of Stage 4 metastatic breast cancer (which had spread to her bones and skull) with her "Face off to Cancer" artworks – channelling her limited energy and emotion into her art. She sells some of her canvases to raise money for Cancer Research. To read our original article on Kayley, CLICK HERE