We are delighted to be featuring sculptural ceramicist Jack Durling in this next Feature Friday not just because of his obvious talents, but also because of his strong conservationist beliefs and his dedication through his art, to expose the devastating impact of human behaviour on endangered and exploited wildlife.
Jack's sculptures are so much more than just replicas of animals.
His passion and knowledge flows into each animal he creates, and the exquisite textured finish isn't just aesthetics, it translates to us the environmental and conservational surroundings and struggles of each of his animals. For example, 'Bleeding for Gold' is a collection that celebrates the beauty of such species as the rhino whose horns are valued and therefore subjects them to danger from poachers. Jack highlights this feature of the animal's body by drenching it in gold… "Rhino Horn is Worth its weight in gold".
We asked Jack how he gets the fabulous finish to his pieces:
"I use many methods. Each collection and individual piece have their own process. I use palette knifes and natural flora objects I find. I perform repetitive mark making with needles etc. I also encourage some markings that naturally occur in the making process. I use the coil method and think of it as a way of drawing three dimensionally."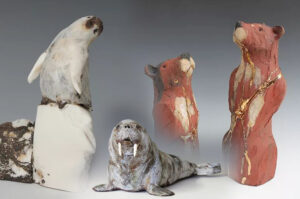 Ceramic scupltures sourced from www.jackdurling.co.uk
Where can Jack Durlin's work be seen?
Jack will be exhibiting at the Open House Festival in Brighton (Fiveways) in May, the Contemporary Craft Festival in Bovey Tracey, Devon in June and Celebrating Ceramics at Waterperry Gardens in Waterperry, Oxford in July. Then Great Northern Cotemporary Craft Show in Manchester October.
Stockists
Objet Trouve · High Street · Alfriston, East Sussex
Lingwood and Samuel · Church Street · Goldaming, Surrey
New Ashgate Gallery · Wagon Yard, Lower Church Lane · Farnham
The Biscuit Factory · Stoddart Street · Newcastle
For Arts Sake · Bond Street · Ealing, London
Naked Eye Gallery · 70 Western Road · Hove
Cecilia Colman Gallery · St Johns Wood High Street · London
He has  new stockists coming out soon such as Kellie Miller Arts who was the subject of our first Feature Friday article.

For more information, images of previous work, details of collections, and exhibitions, see below.
Website: www.jackdurling.co.uk
Instagram: @jackdurlingartist
Facebook: Jack Durling Artist
Twitter: @JackDurling
About our #FeatureFriday posts
Our series of #FeatureFriday articles introduce interesting artists and art forms to our online audiences. It was a frustration experienced with social media algorithms that led to the start of this series. Realising that this was an issue for many others we decided to help with shout outs for selected artists or galleries many of whom offer something a bit out of the "ordinary".