We are delighted to introduce our next Feature Friday artist Bethany Perry, a British multi-disciplinary artist currently living and working in London. Her work that includes mixed media, paintings, digital art, and body impressions, pays homage to female empowerment, and in addition helps to raise awareness and understanding of those suffering mental health issues, something that she has experienced first-hand.

About Bethany Perry
When asked by journalist Hannah Smith (for an article in Art Business) what had been artist Bethany Perry's favourite experience so far as an artist, her answer revealed the foundation of three key factors in her life, her confidence, her skills and love of creating body impressions, and the development of life as a career artist.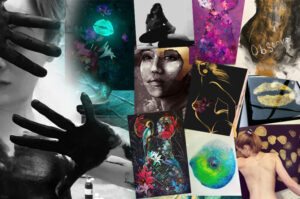 Images sourced from Bethany's website and Instagram


Before revealing her answer, it is important to understand Bethany's background. She grew up in a village in Wiltshire where she was suppressed by "small town" conservative attitudes that resulted in her bursting free as soon as she could to live in a more liberated London. Here she found a successful career in the makeup industry but after a period of suffering from mental health issues, brought about from exhaustion, she re-evaluated her purpose. As dancing had always been her go to distraction and therapy in the past, she successfully auditioned at one of the country's biggest strip clubs where she mastered the art of striptease over a period of 5 years.

In answer to Hannah Smith's question, Bethany replied:
"Stage performances at the club did wonders for my mental health and every time I entered the spotlight floor, I felt at one with every part of my body. It was the most liberating and expressive experience I have ever encountered. My health turned around when I started dancing. I am grateful for the time I spent in that place."

It was also where Bethany developed an understanding of the flow of her own body which led to developing her skills and love of creating stunning body impressions and other forms of art.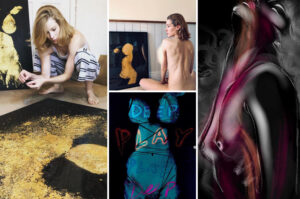 Images sourced from Bethany's website and Instagram


Bethany is now an established artist and has exhibited at such establishments as The Mondrian Curtain Club, Boomer Gallery, Gallery 21, Every Women Biennial amongst others.

Where can Bethany Perry's work be seen?

Website: www.bethanyperryart.com

Instagram: @bethanyperryart

Facebook: @bethanyperryart


About our #FeatureFriday posts
Our series of #FeatureFriday articles introduce interesting artists and art forms to our online audiences. It was a frustration experienced with social media algorithms that led to the start of this series. Realising that this was an issue for others we decided to help with shout outs for selected artists or galleries many of whom offer something a bit out of the "ordinary."