A case study using our most recent collaboration with Kayley Edwards @doubletroublecancer to answer some common FAQ's…

Our ShipArt fleet turns heads wherever the vehicles travel throughout the UK and Europe. With 19 vehicles now wrapped and six years since our first wrap collaboration, the challenge to find fresh and unique artwork is real! With an average of 60 seconds to make an impact the brief is generally big, bold, colourful and strong – essential prerequisites as you can see here.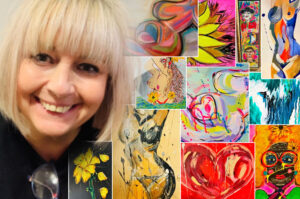 How is the artist chosen?

Our most recent collaboration with Kayley perfectly illustrates the need for a balance of unique style, colour, and strong narrative. Coming across Kayley's personal story of living with a terminal cancer diagnosis and the role that art has played in helping Kayley deal with the emotionally demanding aspect of cancer, together with examples of her "Face off" art with attitude, led us very quickly to believe that we could give Kayley support and literally a vehicle for her message to raise awareness of the issues that she and many others in her position face daily.

The artwork
Wraps go onto brand new, spotlessly clean vehicles – to ensure the quality and longevity of the wrap. The vehicle effectively becomes a canvas between 4 to 5 meters x 2 meters (depending on wheelbase). The image resolution is critical as unflattering pixelation occurs when low-res images are enlarged on that scale. In Kayley's case we selected 4 individual works to combine into one large design.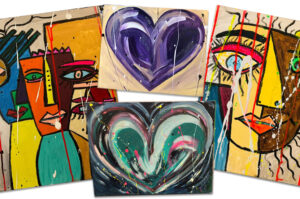 Designing the wrap graphics

Some artists with access to digital print software and a design studio have created their own wraps under our guidance. Some artists have needed more help with the process and in these instances, we have created the wrap "in-house" with the artist always having final approval of proofs before printing commences.

With this most recent wrap, our artist Kayley did not have access to the necessary design software or hi-res images and was not well enough to travel, so we shipped the artwork to our Wokingham office from Wales.

We asked local and highly talented artist/photographer Gina Soden to our office at Wokingham to help take photos of each piece of Kayley's art. Gina then provided us with very high-quality digital copies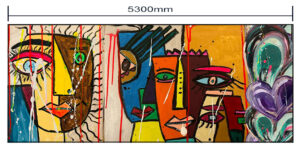 From these images we were able to produce a single very high-resolution flat rectangle image. As the wrap is always identical on both sides of the vehicle and the sides are asymmetrical in layout – doors, window panels etc – it is vital that the single image works in reverse on the second side. Our wrappers at Joyce Design always check the final layout and make any positioning adjustments – signatures, social media account details and messages also must be accommodated on the wrap.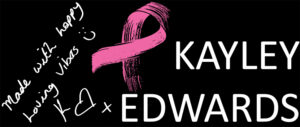 The Wrap Installation
It takes three weeks from approval of wrap design to produce, print, dry, and roll the wrap ready for fitting. The "Wrap Artists" at Joyce can fit the wrap in just 2 days.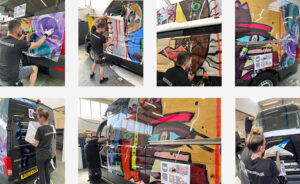 Kayley's vehicle was out on the road immediately and is already clocking up those delivery and collection miles.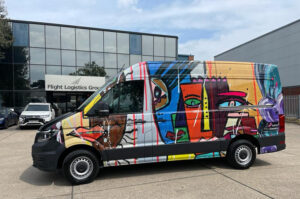 Next month we will be announcing our next artist collaboration for ShipArt vehicle number 20 and once again it will be a complete departure from anything we have done before.