Between November 2020 and March 2021 something mysterious occurred in a forest near Hamburg, Germany. The threat of a second wave of COVID-19 was the cause of the incident and the fact that it was once again going to reduce the country to a stand-still.

So concerned was artist/photographer Jörg Gläscher, that he was moved to mark the oncoming occasion with new additions to his 'visual diary' installations called "C19,1-20, The Diary Complex", which he had started at the beginning of the pandemic.

Jörg entered the forest at the end of 2020 and after having collected deadwood such as branches and twigs from the forest floor, he proceeded to construct a large wooden wave. On its completion he took a series of artistic photographs before destroying the construction to reuse the wood for the creation of a second. In the end he built nine waves which came under the title "C19/18 diary". The largest of these was four meters high by nine meters wide.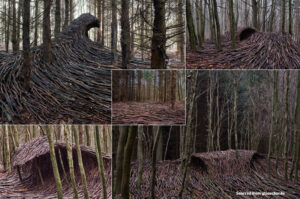 All images sourced from glaescher.de


He told online magazine Colossal "I was working (with the idea of) the pure power of nature, the all-destroying force, which brings one of the richest countries in the world to a complete stand-still … A wave is a periodic oscillation or a unique disturbance in the state of a system."

The images feature in a magazine that is on sale from the artist's website (details below).

Where can Jörg Gläscher's work be seen?
Unfortunately, the artist has not published any exhibitions to see his work in the flesh, however places to go online are:

Website: https://glaescher.de/

Online shop: Books, prints and magazines

Instagram: @joerg_glaescher

Facebook: Jörg Gläscher


About our #FeatureFriday posts
Our series of #FeatureFriday articles introduce interesting artists and art forms to our online audiences. It was a frustration experienced with social media algorithms that led to the start of this series. Realising that this was an issue for many others, we decided to help with shout outs for selected artists or galleries, many of whom offer something a bit out of the "ordinary."