In the same way our bodies will one day decay, so will Nagato's sculptures…

Japanese artist Nagato Iwasaki's collection of natural sculptures transcends 'great art', it's something else entirely! His humanoid figures with their muscles and organs exposed, somehow stimulate the mind into believing they could potentially … have life! They look poised to move at any given moment. Whether we perceive them as friend or foe, one thing's for certain, they look to have intelligence, strength, and purpose.

This is the magic of his work, they aren't just wooden sculptures, they stimulate our imagination as they wander through forests and rivers.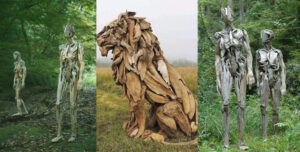 Sourced from Nagato Iwasaki


Nagato makes his figures entirely out of driftwood collected from Suruga Bay and uses wooden stakes to hold them together. The chosen pieces of wood are in no way treated before becoming part of the body it ends up on. It's as if it was their destiny.

Nagato also creates amazing wooden sculptures of animals in the same style, and he is also an accomplished painter.

Where can Nagato Iwasaki's work be seen?
His work has been exhibited since the 1980s, and he has been the recipient of several awards. For more information, details of collections and exhibitions, see below.


Website: nagato-iwasaki.com

Instagram: @nagato_iwasaki

Facebook: Nagato Iwasaki


About our #FeatureFriday posts
Our series of #FeatureFriday articles introduce interesting artists and art forms to our online audiences. It was a frustration experienced with social media algorithms that led to the start of this series. Realising that this was an issue for many others we decided to help with shout outs for selected artists or galleries many of whom offer something a bit out of the "ordinary".