A filled in hole on a pavement or wall is not naturally a thing of beauty unless it has been the focus of renowned street artist Ememem's "flacking".

"Flacking", a term coined by the artist and used to explain his type of work, involves the art of repairing holes with stunning mosaics. The mosaics almost look like some ancient creation uncovered by an archaeologist. The dullness of grey asphalt or concrete that surrounds each one heightens the intensity of the colours and designs.

Based in Lyon, the identity of Ememem is not known. What is known is what gave rise to the title, apparently it is the noise his motorbike makes as it starts up before taking off for the next work of art, Em…em…em. Just as secretive as the artist's identity, each mosaic is created under the cover of night, appearing for the first time at first light, a beacon to the ruin of the street, and a new piece of art for the public to enjoy.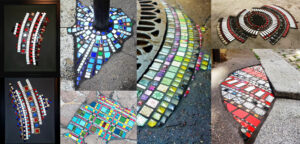 Images sourced from Ememem's Instagram account @ememem.flacking


Where can Ememem's work be seen?
His art can be enjoyed in situ or in galleries and art fairs.
 
There are many mosaics by the artist on the streets of Lyon and other parts of France notably Paris, but they can be found around the globe in other countries including Italy, Norway, Australia, and Spain.

Ememem creates copies of the pieces in his workshop and exhibits them in galleries and art fairs. Currently he hasn't publicised any up-and-coming events, but it's worth looking out for them.

On Instagram – @ememem.flacking
On Facebook – @emememstreet  · Artist

About our #FeatureFriday posts
Our series of #FeatureFriday articles introduce interesting artists and art forms to our online audiences. It was a frustration experienced with social media algorithms that led to the start of this series. Realising that this was an issue for many others we decided to help with shout outs for selected artists or galleries many of whom offer something a bit out of the "ordinary".