Our #Feature Friday shout outs are short and punchy and aim to introduce artists, creatives, and their work to our social media followers and online audiences who may not otherwise see their posts. The idea was born out of a universal frustration with algorithms, and we felt that some good old fashion introductions might bring people fresh interest, likes, and follows.
Dan Yaroslaw – Cedars Yard
This week we have chosen to feature creative arborist Dan Yarslow who amongst other things creates the most stunning resin tables. Unlike most producers of this form of furniture, Dan who is also a tree surgeon, fells and hand mills his own wood meaning that (with his specialist knowledge) each piece is of high quality.
There is also no doubting his ability to add the resin to complement the wood. The finished item has been seen by our Marketing Manager Steve, who has visited the Cedars Yard country studio that he shares with his partner, talented oceanscape painter Emma J Read. It is a wonderful mix of creativity.
Here are some start to finish shots…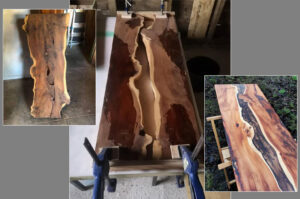 Where can you see and buy Dan's work?
Online – Cedars Yard website is www.cedarsyard.co.uk
In person – The workshop will be open alongside Emma's open art studio 11-26th June (part of Surrey Artist Open studios).
On social channels – @cedarsyard (Instagram and Facebook).
If you would like to be considered for one of our Feature Fridays, please email marketing@flightlg.com