Dear All
Our final newsletter of this year is thankfully free of the Brexit preparations and deluge of additional shipping paperwork that we were preparing this time last year (phew)! Although imports and exports are still affected by new Brexit protocols, the majority of switch over problems are thankfully much reduced as we have all learned to accept change and amend expectation whilst modifying supply chains.
There is just one reminder regarding Brexit – and that refers to the end of transition and easing on December 31st 2021 as follows :
Between 1 January and 31 December 2021, you have been allowed to export goods to the EU using preferential tariffs without supplier declarations, as long as you were confident that these goods met the rules of origin. This was to allow you more time to get your supplier declarations afterwards. This temporary easement will end on 31 December 2021 and you must hold supplier declarations for goods you've exported this year. For more information go to our Brexit page.
COVID-19 increased the impact of Brexit and continues to affect supply chains periodically, but we are learning to live and operate with that also. Throughout almost 2 years of pandemic conditions, we have managed to maintain our excellent levels of service, remain fully operational, and develop new services and areas of expertise. We are thriving on the challenges!
How We (As Your Logistics Partner) Are Supporting Your CSR Policy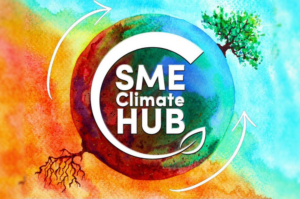 The next momentous challenges are Climate Change and Climate Justice, and how we modify personal and corporate behaviours to achieve the net zero targets set. We operate in a notoriously carbon heavy sector and we have had a robust Corporate Social Responsibility policy in place for several years – which has been reviewed and modified as new technologies and innovation have become available and new areas of focus have been identified.
At the start of November, we signed up to the SME Climate Commitment via the SME Climate Hub and this will give us access to a support network all committed to net zero output target by 2030 as a minimum. We are in the early stages of benchmarking our current practices and setting stretch targets in all areas of impact.
Through the Climate Commitment our practices will be transparent and accountable, and our progress will be monitored and published. We believe that our commitment will support our client's commitment and stronger corporate relationships will be formed as a result.
If you are interested in joining the Climate Commitment you can find further information on the SME Climate Hub website.
Supporting Charities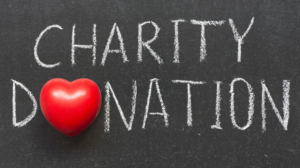 Each Christmas we try to support local charities that do not enjoy the large national or international support of the well-known, established charities. This year we have chosen to make donations to the following:
The Kimel Café (Wokingham) – provides supported employment for the neurodivergent community, and a stepping stone training experience to give young people an opportunity to transition into mainstream employment.
Aid Box Community (Bristol) – offers support, supplies and sanctuary to refugees and people seeking asylum in Bristol.
The Besom (Surrey) – focuses on ensuring those who have something to give (such as time, things, money, and skills) are able to focus their giving in community areas identified as in need in order to maximise the effectiveness of any kind of contribution.
Additionally, we still have our sponsor dog "Cheeky" at the Dogs Trust – longer term clients will recall that we have sponsored a dog for several years now.
Throughout the year we have supported our long-term charity partner Migrate Art with their fundraising for the Refugee Community Kitchen, The Lotus Flower, Refuaid and Mutual Aid Myanmar
During the Summer we gave our support to Vanguard Street Art and their debut exhibition at the M Shed in Bristol – they were raising awareness of the Bristol Street Art Movement history and combining related outreach community programs with fundraising for Aid Box Community and Temwa 
More recently as part of our drive to minimise waste and re-use/ recycle / upcycle we have worked with one of our logistics clients to repurpose unwanted stock in the local community through Share and Kimel Café.
Finally – the slightly boring stuff…
Additional Planning for Your Deliveries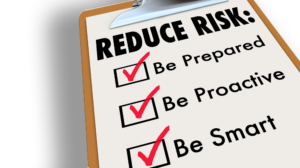 Can we urge you to plan and allow extra time for deliveries throughout the usual seasonal crush of December – ongoing COVID-19 restrictions, reductions in air and freight capacity, stringent post-Brexit border controls and higher than ever increases in seasonal volumes, plus the ever-present effects of inclement weather, all impact both National and Global deliveries and transit times.
Last Posting Dates – 2021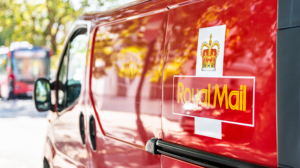 Links to recommended last posting dates are HERE although we recommend you don't wait until the last minute!
Opening Dates During Holiday Season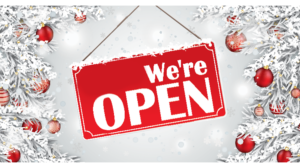 As always, we will be open every day throughout the holiday season apart from UK Bank holidays and we will continue to process shipments throughout. If you have any specific distributions that might require more advance planning, please talk to our CRM team. They can advise on all options in advance rather than leaving things to the last minute!
2022 International Courier Pricing Review
It is of course also that time of year when we receive notice from suppliers of international pricing reviews and this year is no exception! As always we are aiming to minimis additional costs to clients and only pass on our own actual % increase which for the coming year will be in line with previous years at 5%. A separate notification with the details of planned international tariff increases will be sent next week and these will be effective from January 1st 2022.
Kind Regards
CRM Team