Flight Logistics ShipArtTM started life amongst the edgy street art scene of Bristol, collecting and delivering artwork for artists some of whom enjoy great success today. Since those days we have expanded our services and client base. One of our offices/warehouses is based in Wokingham, a district that is so inclusive of public art that even new developments of a significant size must include some form of public art within their plans if planning permission is to be granted. As an art handling business, we often feel truly in tune with our location.
The artwork, which is spread over the district, is a mix of sculptures, commissioned paintings and street art/graffiti. Below is an example of what can be experienced within our area, all very close to our offices.
Graffiti by various artists – Loddon Mead, Wokingham
Where the Loddon Bridge Road passes under the A3290 is this wonderful collection of graffiti art on the pillars that hold up the main road. Loddon Mead is well known especially amongst street artists, before the lockdown many travelled from all over the country to the site.
Cats by Catsy (real name unknown) – central Wokingham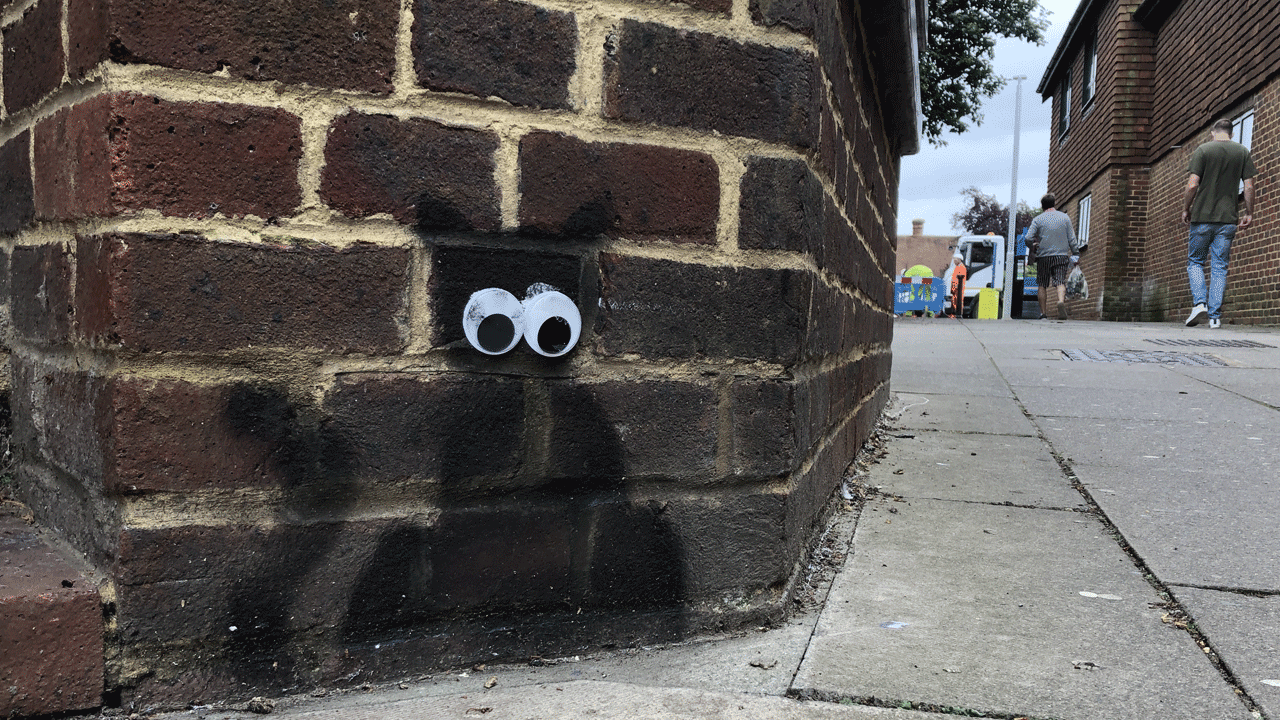 In early 2021 several little black cats started appearing on surfaces around Wokingham. These little spray-painted stencils with stick on eyes are the work of street artist Catsy. What started as a project to entertain his Godchildren is now becoming famous.
"The Water Babies" by Lydia Karpinska – Denmark Street, Wokingham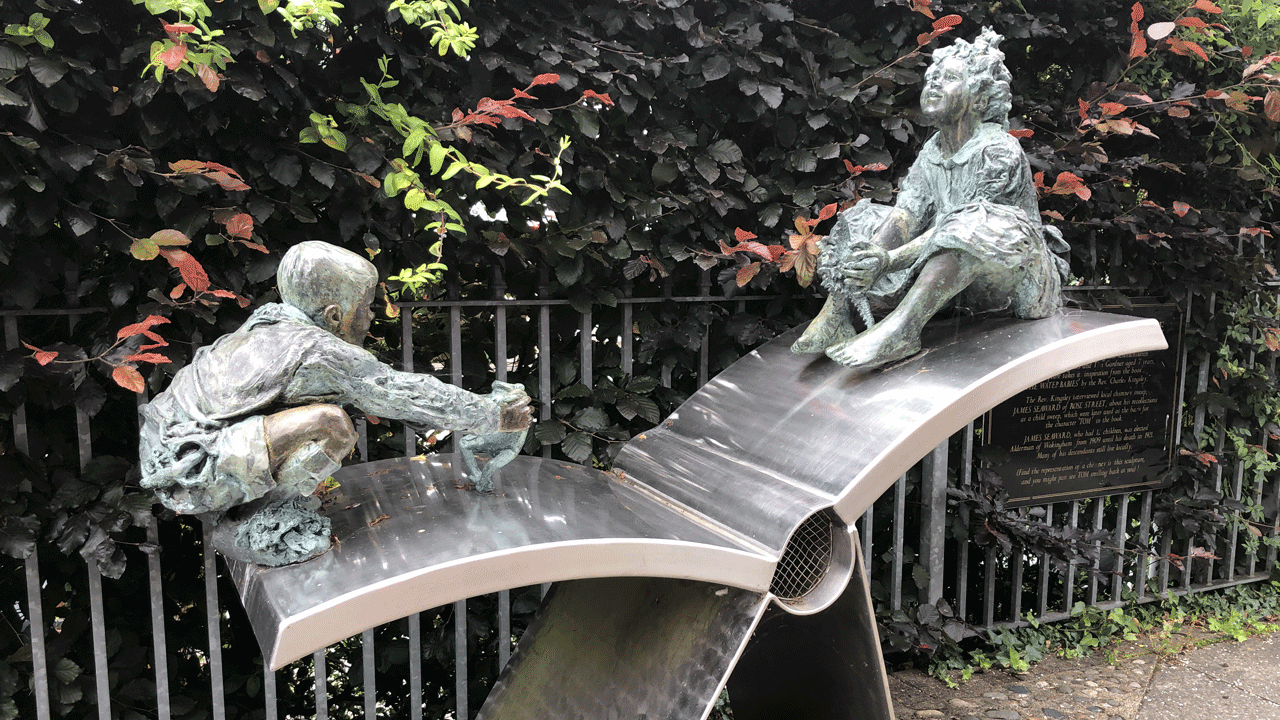 This amazing bronze sculpture unveiled at the turn of the century with the artist Lydia Karpinska present, is based on a story written by Charles Kingsley who was the vicar of nearby Eversley. "Tom" the little sweep-boy on the sculpture was a character in the book based on real life local, James Seaward who was born in the Wokingham workhouse, became a chimneysweep and rose to become Alderman in 1903. The sign next to the sculpture says, "Find the representation of a chimney in this sculpture and you might just see Tom smiling back at you".
"Icarus, Sports Horse Mare and Youngster" by Amy Goodman – Arborfield Green, Wokingham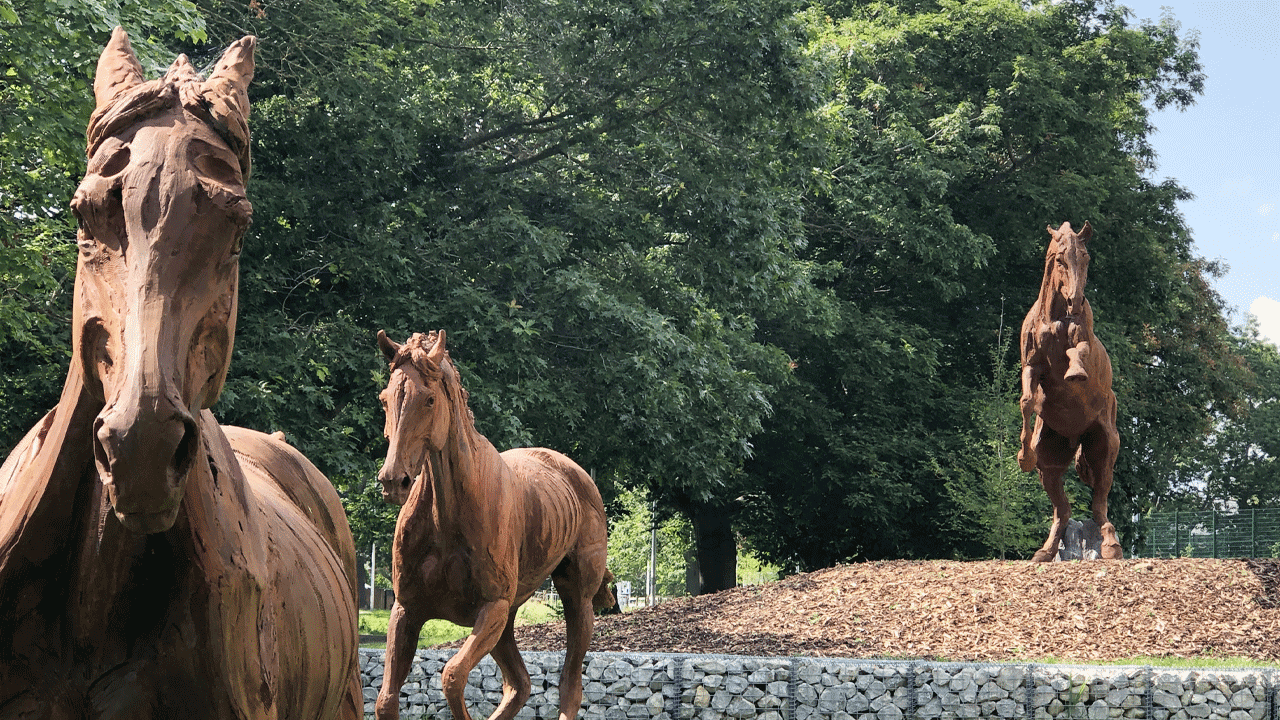 Galloping across Arborfield Green are these three life-size war horses in honour of Arborfield Green's military history. Made of iron-resin they celebrate the 100,000 plus horses that would have fed the war effort for both the First and Second World Wars.
"English Elm, Song Thrush and White-letter Hairstreak Butterfly" – Designed by Jane Bonney and sculptured by Gary and Thomas Thrussell – Elm's Field, Wokingham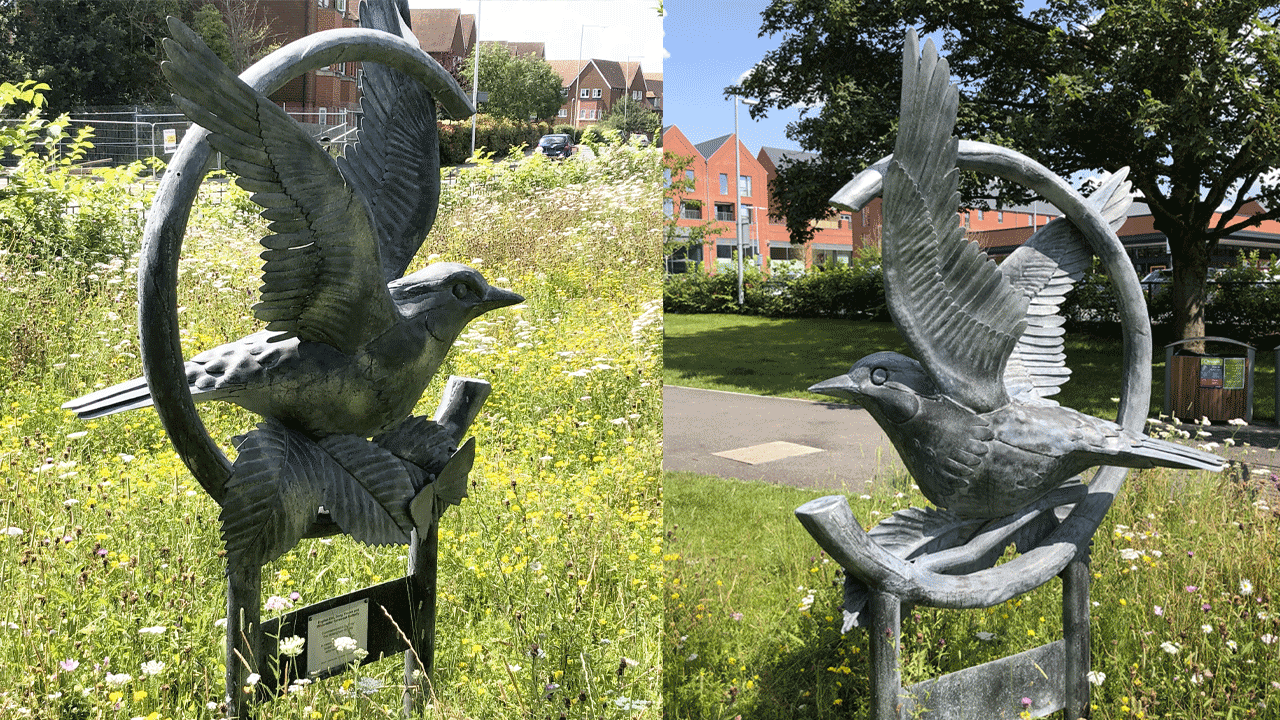 This piece was commissioned by The Wokingham Society and is dedicated to Isobel Jocelyn Elliston Clifton. Isobel  loved Wokingham so much that she left a donation in her will to the Wokingham Society (to help with conservation within the area). The three animals immortalised by this beautiful piece are all at risk due to regeneration in the area. Thrussells are metal sculptors in Cornwall who create public sculptures.
"Bee", "Chrysalis", "Stag beetle" and "Caterpillar" by Sculptor Stephen Radford – Elm's Field, Wokingham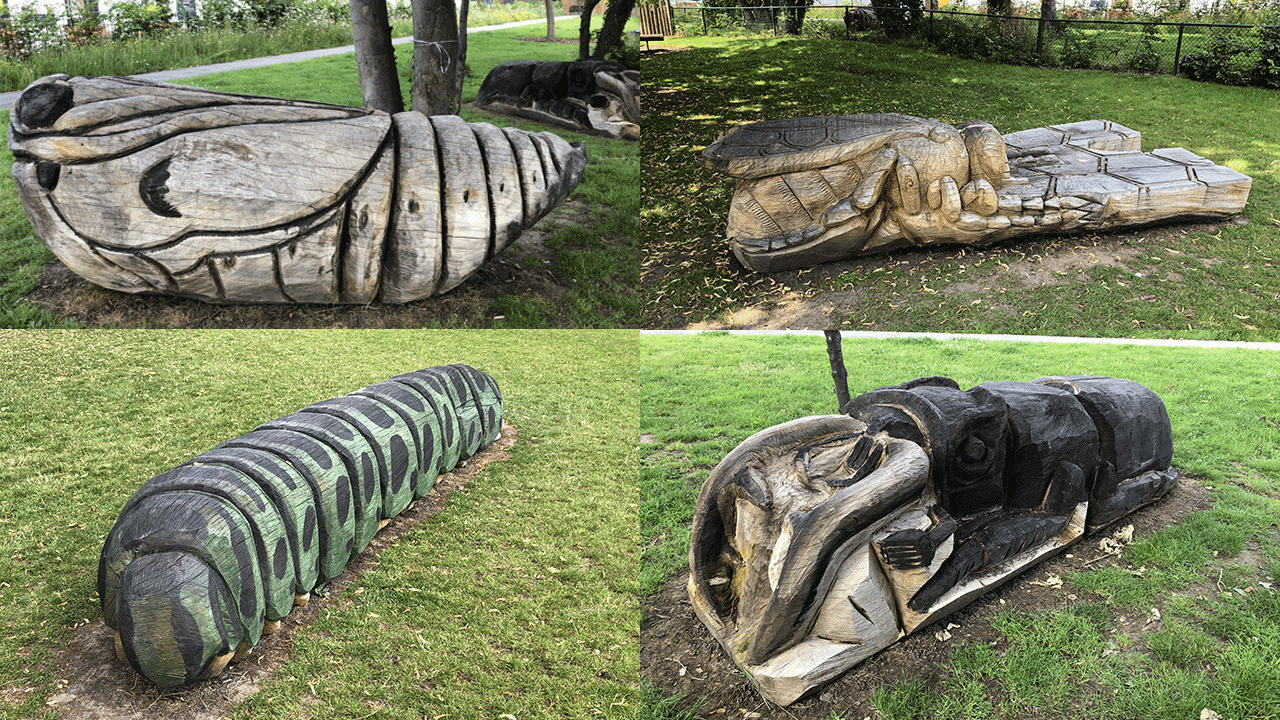 Further residents of Elm's Field are these giant oak insect carvings which were created from tree trunks in the park.
"Slug Bench" by Woodscape – Peach Place, Wokingham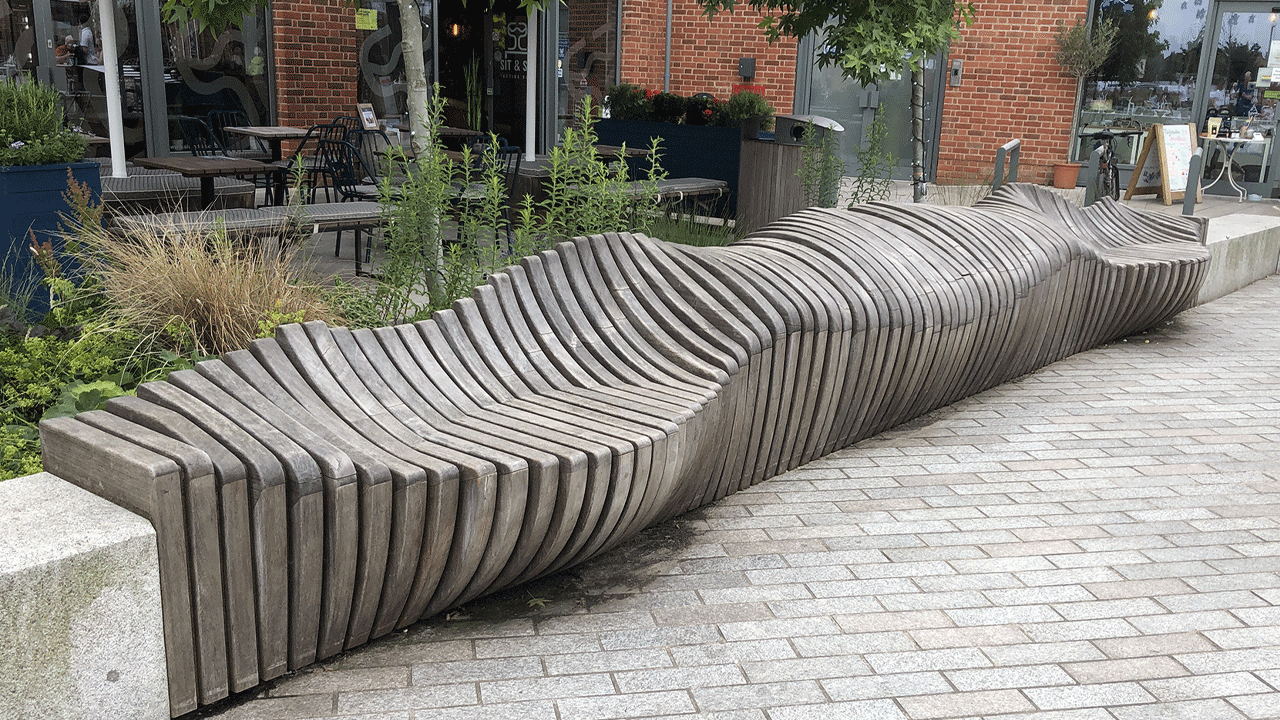 This custom-built bench made from sustainable hardwood is an example of the dedication by local authorities to bring beauty to the area through new installations. This undulating bench brings charm to an area that is otherwise unremarkable. Woodscape have created items for the Olympic Park and Brighton Pavilion.
"Anniversary Mosaic" designed by Rosalind Wates and Sculptured by Thrussells – Peach Place, Wokingham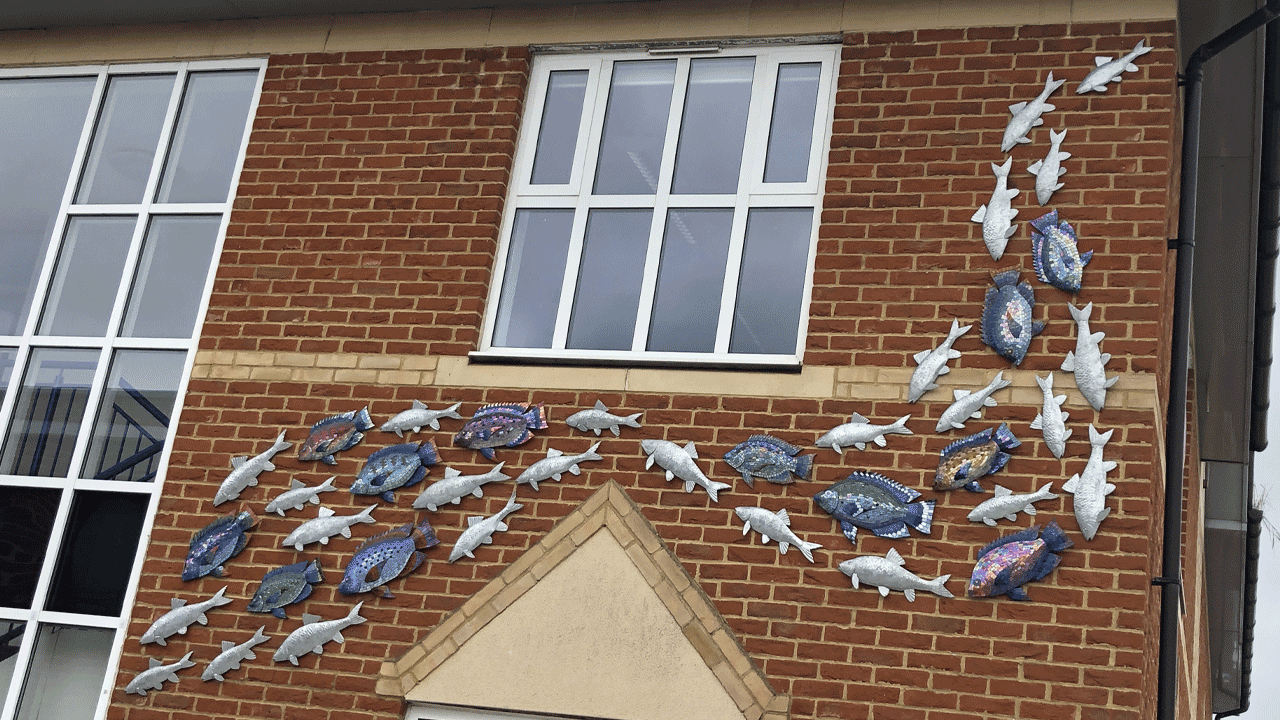 Made of a mix of vitreous tesserae on metal, the shoal of 40 fish on the side of the Branbury Centre was commissioned by Wokingham Methodist Church to celebrate their 200 year anniversary and is based on the Christian symbol of fish. The fish are those found in the Sea of Galilee including the colourful St. Peter fish.
Mosaic Roundels by Rosalind Wates – Market Place, Wokingham

Two of the 6 mosaic roundels
There are 6 beautifully cast round mosaics dotted around Wokingham town centre each one commemorating an aspect of the town's history or traditions. The mosaics (each one sponsored by a different group) are made of marble tesserae and concrete and are 60cm in diameter except the Poppy which is 70cm.
"New Beginnings" by Thrussells – Montague Park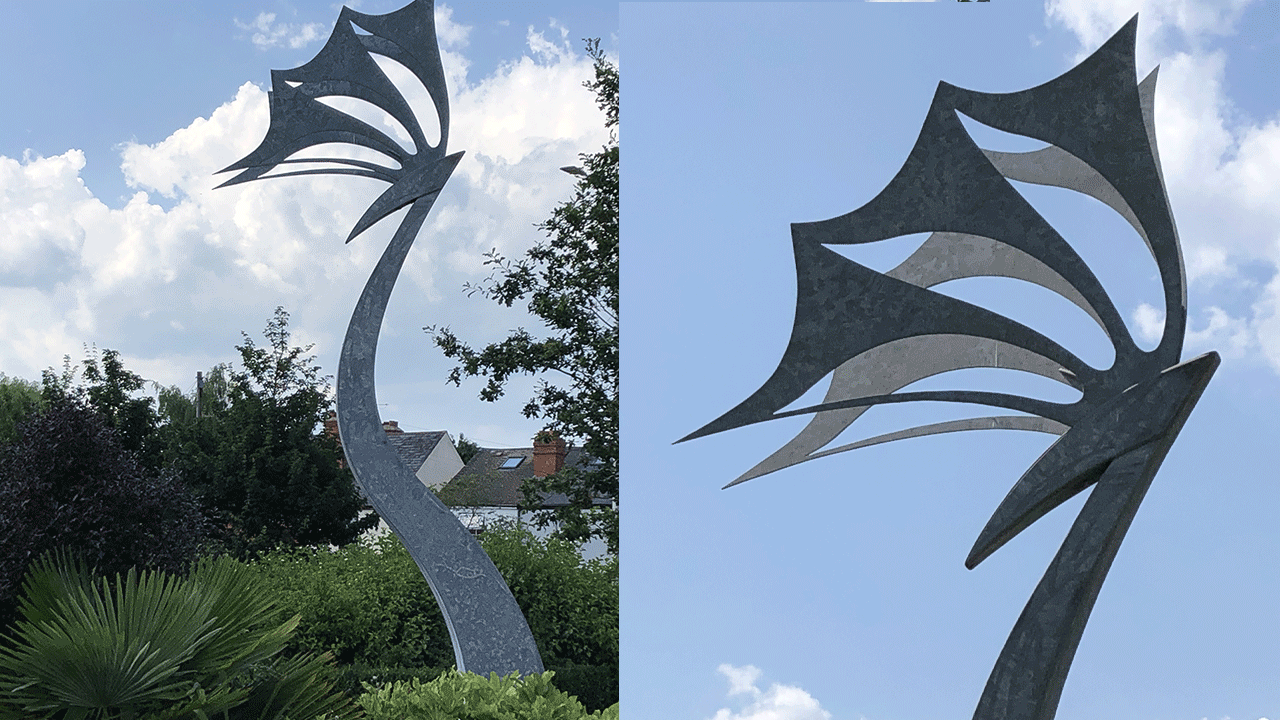 You can find this large metal butterfly fabricated in galvanised steel and resting on a long new shoot at the entrance to Montague Park on London Road. It portrays new growth within the area and celebrates the growing community at the development.