…
Welcome to our second article in a short series that looks at the Sustainable, Ethical, or Environmentally Friendly measures that some of our e-commerce clients commit to. It has become apparent to us that producer and consumer attitudes towards selling and buying are changing.

With 2019 predicted to be "The Year of the Vegan" by the economist, it's not only dietary changes that are anticipated but a huge rise in both vegans and non-vegans seeking cruelty free skin care and personal care products. One of our clients in particular has prepared for this change in consumer behaviour by introducing and marketing skin care products which fit the "cruelty free" remit.

We put some questions to Aysha Awaad, Owner and Director of Medico Beauty:


Medico Beauty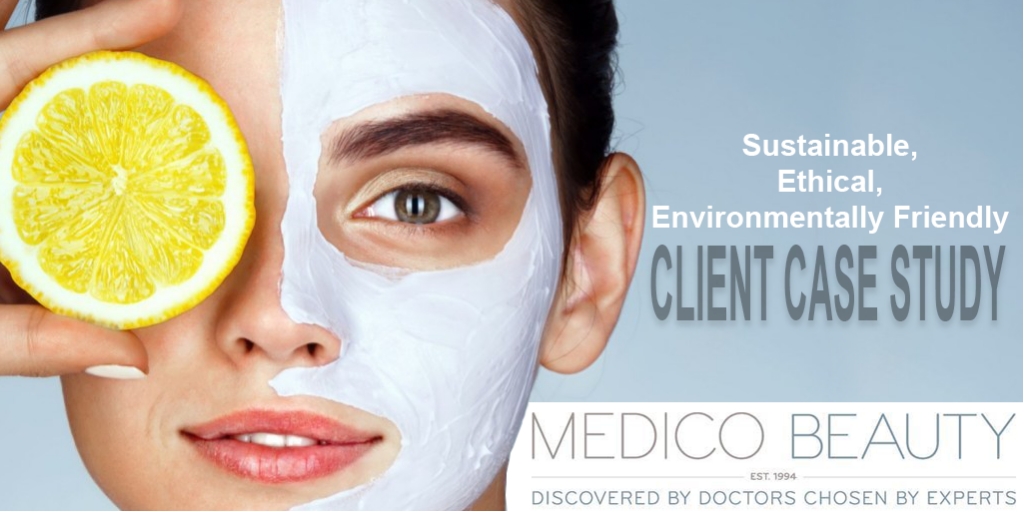 Tell us a bit about Medico's background?
Our company's Co-Founders are both medical practitioners. They are both very much hands-on and use the treatments with their patients; therefore, using ethical formulations that have some integrity, is absolutely critical to their continued success.
Medico Beauty became the sole distributor of the CosMedix brand in the UK in 2003. As the CosMedix brand uses plant based active ingredients it fulfilled our initial aim to stop the treatment of Adult Acne and Rosacea through the over prescribing of antibiotics and allowed us to convince Medical Practioners that treatments were available that avoided wounding and damaging skin.





CosMedix range


Why has the focus on vegan products developed?
In the last two years, searches for vegan beauty have more than doubled on the Boots website. Also, the High Street retailer Superdrug have expanded the selection of vegan brands by 20%

This trend initially started with the public wishing to use organic skincare made from plants grown without pesticides. The public want to use products that they can trust that allow them to see results without compromising their health.

Our products use Noble Prize-winning chemistry called "Chiral Correct." Only the portion of the molecule that's recognised by the receptors is selected. Chiral ingredients are all recognised by the skin's own thinking system and can therefore initiate improvements to its behaviour, making the products one hundred percent more effective.


How has the sale of natural and vegan skincare evolved online?
Retailers on the high street are only just catching up with the demand for innovative, vegan products. The choice of brands online is much broader than in store. Several e-commerce platforms provide a one-stop-shop, selling products made in the UK and abroad. Customers get access to added value such as loyalty programmes and gifts with purchase.

Digital marketing has given independent vegan brands the opportunity to grow sales online at an exceptional rate. They are building a community in months rather than years. Generating traffic to their website from social media platforms such as Instagram and Facebook. Because these platforms can target users advertising based on their personal preferences and profile.

Consumers will often research brands and look for recommendations before they buy. The vegan community is very much plugged into several digital channels. This is demonstrated by the growing number of YouTube subscribers to vegan beauty influencers.


How important is your website for promotion and sales?
Having a well-designed e-commerce platform has made a massive difference to our operations. Every sale is made via the website. It's a fully automated and streamlined process. The same goes with the training, which happens via an e-learning platform. The resources that would have gone into ordering, processing, and providing classes have been re-directed to digital marketing and developing new educational resources, such as hosting Facebook LIVE events.

How do you think the sale of vegan skincare will change in the next three years?
The choice of vegan products will broaden to include all personal care items from the very inexpensive, like toothpaste, to the more luxurious items, such as specialty serums and treatments. There really are no limits to the appetite the public has for shopping for vegan brands. The public are also more willing to pay a premium for sustainably sourced ingredients.

Retailers will also become more targeted, focusing on specialty brands and products, such as selling vegan brands that are free from common irritants.


What is your favourite vegan skincare brand right now?
I discovered a Dutch brand, The Ohm Collection, a few years back and absolutely adore their deodorants, which use plant-derived ingredients. Anti-perspirants contain harmful ingredients that I wish to avoid, including aluminium. Sweat is the body's way of getting rid of heavy metals and toxins.

Aluminium narrows the pores to prevent you from sweating, which is unhealthy. Therefore, switching to a natural deodorant reduces the risk of aluminium in your body. In addition, natural ingredients are safer and easier for the body to break down, and the pH level supports the microbiome on the skin, which is crucial for maintaining its healthy appearance.


Tell us about any new and exciting projects you're developing in 2019?
In August we are launching a new B2B e-commerce site that will provide our wholesale accounts even better sales information and targeted offers.

I'm keen to make the website more informative, as education is still a key part of developing relationships with customers. We recently launched a new chat feature that gives visitors access to a dedicated Skin Expert. There are some amazing automated features that will be added to make the user experience even more enriching.


What's your proudest achievement
Serving the public and our professional customers by sharing advice on how to get started using effective, plant-based products. It's really rewarding to have a digital platform that provides the option to scale our services to many more users so everyone can avail of our expert advice and solve their skin problems at home. Nothing is more rewarding than having a happy customer.

Thank you Aysha Awaad.

Click Here for vegan skincare products sold on the Medico site.