…
It's an old question, but we're keen to understand current opinion on the subject. Should galleries and artists display the price of a piece of work both in the gallery and online?
To price or not to price artwork?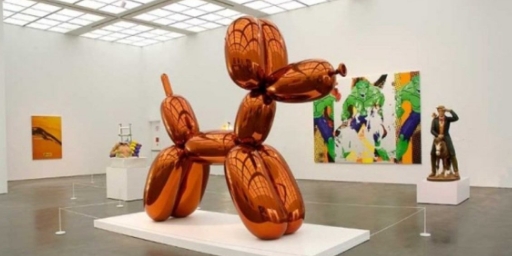 Jeff Koon's "Balloon Dog"
Have you ever browsed art online or walked into a gallery or art space, and found a piece of art that you are interested in only to see it's either unpriced or has a label saying "POA"?
Does having to ask a gallerist or artist the price – especially in person but also online – put you off the purchase?
Maybe Grayson Perry got it absolutely right with his ironic piece "I promise nothing"…emblazoned with its purchase price of £37,000 and conveniently converted to yen!


Grayson Perry 's "I Promise Nothing"
We recently attended a Grayson Perry lecture, and the speaker (a buyer for the Tate) had a great anecdote on the subject. He said:
"We had a budget of £40,000 (some years ago) to make some purchases on behalf of the Tate. We walked in to one of the galleries situated on Cork Street, and saw a piece we liked and asked what the price of it was. The reply was "Why do you want to know?"… We immediately told them we had £40,000 to spend but we wouldn't be buying anything from them, and walked out."
Do You think it's a good idea or a bad idea to publish the price? Let us know your thoughts…