Ever mindful of our social responsibilities, we've supported many organisations with their charitable causes over the years. As well as donating money and our time, we have provided services from managing collections and deliveries of all kinds (including packing and shipment of artwork through our ShipArtTM services), to promoting their good work across our social channels and client base. This article gives us the opportunity to do the latter again (please see list below).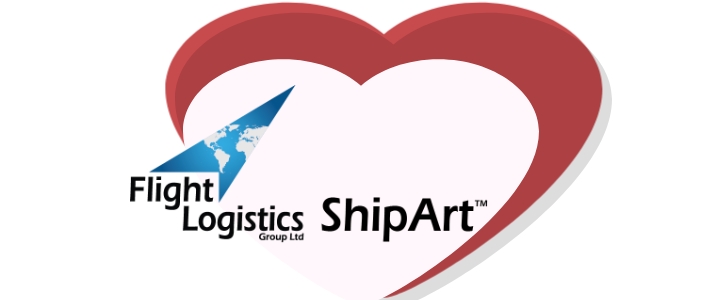 Whether it's helping someone overcome the loss of a loved one or supporting educational programs for women and girls in economically deprived areas of the world, we are committed to do our bit to help people, animals and the environment.
The following are just some of the charities and causes we've supported in recent months, please click on the headers to link to their stories and how we helped:
Migrate Art raises money through auctioning contemporary art to help those affected by the refugee crisis. They support Refu-Aid, Refugee Community Kitchen, the Lotus Flower, and The Worldwide Tribe.
"We are both excited and grateful to be working with Flight Logistics for our upcoming Multicolour project. We wouldn't want to work with anyone else, as their knowledge and expertise are unrivalled." – Migrate Art
………
DreamIT encourages organisations to donate IT equipment and software to realise their vision of a "world in which education is made accessible to the underprivileged through technology". Together with adm Group (one of the largest independent marketing services businesses in the world), Flight's focus was on helping women and girls from deprived areas through DreamIT's initiatives, giving them an opportunity for success and improvement through education.
"Thank you so much for your collaboration! We all know your impressive reputation as a worldwide courier company within the art sector, but now we also know that the "real art" in your company is your big social responsibility. – DreamIT
………
Dogs Trust is an animal welfare charity and humane society which specialises in the well-being of dogs. The charity rehabilitates and finds new homes for dogs which have been abandoned or given up by their owners.
"Thank you once again for taking the time to donate and for helping the dogs in our care. Our work is only possible because of the help we receive from our like-minded supporters and your incredibly thoughtful generosity is greatly appreciated". – Dogs Trust
………
Cats Protection Haslemere Adoption Centre finds homes for an average of 700 cats yearly. Their aim is to match their cats with the right homes, such as families with children, older people who need a companion, or rural homes that need mousers.
"Thank you for your donation" – CPHAC
………
Babies in Buscot Support (BIBS) is the charity supporting the neonatal ward for sick and premature babies at Royal Berks Hospital.
"Thank you so much for your donation All money donated to BIBS goes towards purchasing equipment and supporting the parents and families of special care babies on Buscot." – BIBS
………
Many Tears Animal Rescue (MTAR) is a rescue based in South Wales but has dogs in foster homes throughout the UK. They also take in a small number of cats each year.
"Massive thanks to all at the Flight Logistics Group who have sent a wonderful donation … Special thanks to Tracey, their managing Director who is an active supporter and adopter of Many Tears for all her continued support. Thank you so much!" – Many Tears Rescue
………
Surrey Sands are a national organisation and registered charity, established to support anyone affected by the death of a baby.
"Thank you very much for your donation in memory of All Our Precious Babies Always Loved Never Forgotten to Sands, the stillbirth and neonatal death charity." – Sands
………
The Movember Foundation is the only charity tackling men's health on a global scale, year-round. They have one goal: to stop men dying too young.
"Flight Logistics – ShipArtTM services have provided fantastic support for "Against the wall"… transporting high value contemporary art pieces from around the world … within manageable budgets." – Movember
ARTWORK DONATED BY WELL-KNOWN ARTISTS AND AUCTIONED AT SOTHEBY'S TO RAISE MONEY FOR MOVEMBER
………
Ecostrawz has a mission to get individuals and businesses around the world to drastically reduce and eventually eradicate their use of disposable, single-use, plastic drinking straws
"It was important for us to choose a logistics company that had shared values of CSR, environmental credentials and a wealth of experience. … Flight Logistics Group Ltd was the right choice and they offer the support we were after. They manage the storage of our stock, order processing, fulfilment and distribution. They're also keen to help promote our business." – Ecostrawz
………
Brides Do Good is a pioneering social enterprise that sells the world's most beautiful pre-loved designer wedding gowns to eradicate child marriage. Every year, 12 million underage girls are forced into marriage.
"…we were able to raise enough funds to support over 100 scholarships keeping girls at risk of child marriage in education, … Our suppliers, like Flight Logistics, are a huge part of making this happen. They understand how important our work is, and do their utmost to support us in every way they can." – Brides Do Good
………
Artichoke (UK)'s, "Processions 2018" project was a once-in-a-lifetime opportunity to take part in a mass participation artwork to celebrate a huge achievement brought about by the women's suffrage movement 100 years ago. The right for women to vote!
"Flight go the extra mile by communicating with each artist, giving them instructions to make it clear what they need to do… which makes it a good experience for us and them." – Artichoke (UK)
………
Helium London's, "Pavement Lickers" project to raise money for Rett UK a national charity dedicated to supporting and empowering people with Rett syndrome and their families
"With the generosity of some incredible artists and the help of a ludicrous amount of shipping logistics from expert art handlers Flight Logistics/ ShipArtTM, it somehow all came together …". – Helium London
………
Rise Art Prize 2018 was a global competition that sought to uncover the world's most exciting up-coming contemporary artists.
"… a special thank you to Flight Logistics/ShipArtTM for their support of the event as the Official Shipping Partner of the Rise Art Prize.". – Rise Art
………
We have been proud to support all the above in one way or another and look forward to doing the same over the next year. If you are a charity and feel we can support your fund raising or event through our services, please do get in touch with us.