Guest blog by artist Sue Ransley – An artist's perspective
This is the sixth guest blog in the #sellbuyart series that features responses from both buyers and sellers in the art sector.

Do artists and galleries receive more interest and better sales at art fairs, in the art gallery, or selling art online? Does one drive footfall to the other? Do you simply get a different type of buyer at an art fair rather than a gallery? Do you get a lot of viewings at art fairs but not many sales? And where do online art stores enter into things and how successful are they for selling art? What makes one succeed over another?
Sue Ransley – Artist
Sue is currently a finalist in Creates Magazine's Emerging Artist Prize 2019. In her guest blog below she offers us an insightful overview of her journey from finding her medium, improving her skills, and discovering the best routes to promote her work, through to becoming a successful artist selling her work both in the UK and overseas.
Sue's experiences of promoting and selling her work across art fairs, art galleries, and online gives her a great perspective of the marketplace, and has offered us all a well-constructed response as part of this on-going discussion.
"Being an artist is quite an isolationist endeavour, and for some artists the 'selling' is a challenge. However, there are now more opportunities and ways of selling than ever before. My advice is to be bold and brave and embrace them all! Exciting times!"
– Sue Ransley
About
Sue Ransley is drawn (no pun intended) to painting people, everyday folk she's seen whilst out and about, camera and sketchbook in hand. Sue aims to capture our individuality and quirks – what makes us human. She hopes you will recognise in them someone you know, or perhaps, yourself! These aren't portraits, Sue looks at the essence of the moment – what caught her eye, or made her smile – and aims to capture that on canvas, often with humour, but always with warmth and affection! Sue 'draws' directly onto the canvas with paint – these lines forming part of the final image.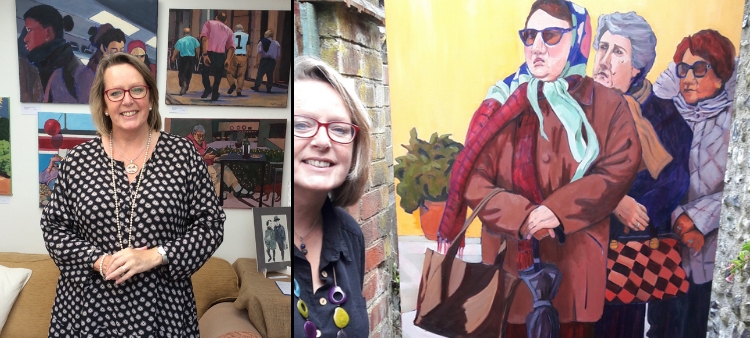 My experiences and views on promoting and selling art
"I've come late to art. I was a Blue Peter kid always painting, cutting & pasting, and sticky back plastic…'ing. But then I left school, started work, and life happened.
Roll forward a couple of decades and my children are all grown and starting families of their own. So, finding myself with some 'me' time my first thought was to get into art in some way, and in joining a local Adult Education group I was blessed with the most amazing mentor!
Within a year I was working with oils and found a love of depicting people. I submitted work to a local, well-respected, exhibition and was over the moon to have a painting selected. Not only that, it sold on the first day, and I got two commissions!! My art career had taken flight!"
"That was some 9/10 years ago, and I am very conscious of how the industry has changed in that time. When I was taking those first baby steps every self help guide, or art journal, talked of getting gallery representation seemingly as the only way of selling.
This advice still applies, it's amazing to have that representation, but there is so much more to think about now. Many traditional galleries are having to rethink to stay competitive. Historically they all worked on the same basis – they selected artists who they promoted, and if work sold, would split the proceeds with the artist (commonly 50/50). But now galleries are trying a huge variety of financial models, often involving the artist in outlay. I understand in the United States the term 'Vanity Gallery' has been born – where the artist basically covers all the costs and can have their own solo show.
Meanwhile the number of Art Fairs has grown exponentially. This is not a format I have tried as yet, but imagine if you have a range of price points to suit a wide audience, then these events can work very well especially if you are an artist that enjoys meeting your public!"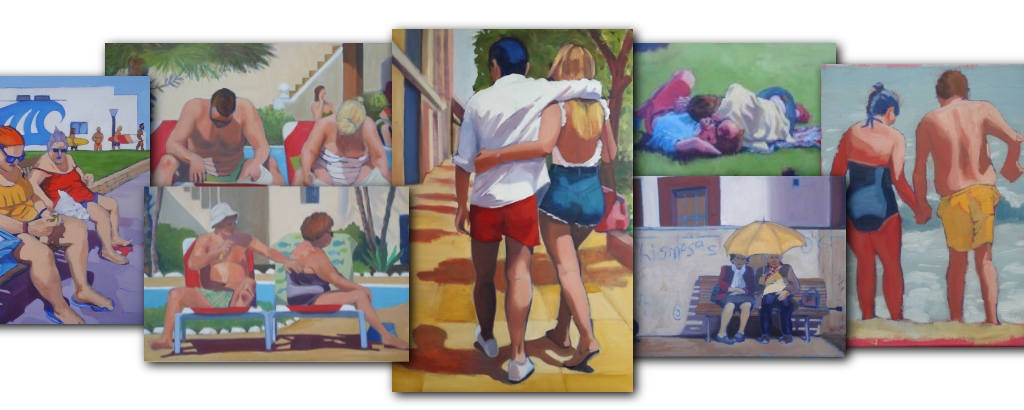 Artwork by Sue Ransley
"There are now online galleries getting your work seen by a much, much larger audience than you can reach on your own. But you do need to be able to pack and send your work to buyers, or maybe phone a friend, like Flight Logistics-ShipArtTM.
And of course, there is your own website and Social Media! For some selling through Instagram works really well, either directly or by pointing people towards your website or an Etsy page.
My own approach is a mix of these things which I believe is really important now. In 2017 I was delighted to be taken on by a local gallery, and 2018 brought me my second. I submit regularly to open calls, just like that first baby step! Being part of different shows around the country/world means you get to show your work to new audiences. In recent years my submissions have brought me opportunities like my first show in London – Artrooms 2017! Other shows have included 'Unity in Variety' at the Nehru Centre, 'The London Show' at Coningsby Gallery, 'ArtExpo' in Rome, and in 2018 I was a finalist in the Holly Bush Emerging Woman Painters Prize.
I have a website, and represent myself through Instagram, Facebook and Twitter. A major commission to happen in 2019 has come about from my Facebook presence.
Each year I am also part of two Open Studio events. These are really lovely ways of getting feedback on your work, and seeing people's reactions to what you are doing – as well as good selling environments.
And I am always looking out for new challenges and adventures. For example, last autumn saw me not just exhibiting, but also demonstrating in a public space as part of a new art trail in Cheshire.
You can next see my work exhibited at the Artworks event – 25th February to 10th March at The Oxmarket, Chichester, or at Creates Gallery, Monmouth 8th February to 9th March."
Brought to you by Flight Logistics-ShipartTM
Why are we qualified to manage the debate?
ShipArtTM sits in the middle of the art sector and builds lasting relationships with artists, galleries, collectors, investors, curators and organisers of art fairs. From this position and with a genuine interest in all things art (our staff are art lovers and collectors), we are perfectly positioned to take a neutral stance and draw upon our community to bring you a wealth of opinions on the subject of buying and selling art in the current market.
A word from Flight Logistics ShipArtTM
What is becoming apparent through these valuable guest blogs is that we live in a day and age when artists have much more control over their careers. It's been mentioned more than once that an important aspect of successful sales is the personal touch that the likes of art fairs and exhibitions provide.
Just make sure that there is a professional art shipping company on stand by for the last part of the trade.  Don't forget amidst the excitement of any art purchase how important it is to use a professional art shipping company for delivery – packing, insurance and shipping are often last minute additions to the process – they can be an integral part of the process with the right advice – check out our previous blog articles with free advice and email us for quotes and more specific information
Our testimonials speak for themselves!
Look out for Part Seven in this series. Follow us on any of our social media channels to be sure of receiving this.