We are proud to announce that this year we are celebrating our 32nd anniversary. Founded in 1991 by our current Directors who had a vision to create a company that could provide innovative and efficient international courier services to businesses of all sizes we have grown to become a trusted brand and recognised logistics provider.
From humble origins and a shop front on the Great West Road we currently work from two large warehouses based at Heathrow and Wokingham (approx. 32,000 sq ft in total) where we manage the global supply chain needs of our clients offering services including full third-party  logistics,  art handling (including storage, bespoke packing, and shipping), e-commerce, freight, mail & fulfilment, and marketing. The success of the company can be attributed to our commitment to providing tailored logistics solutions with trusted partners to meet the unique needs of each of our clients, whether they are small start-ups or large multinational corporations.
One of the key factors that has enabled us to thrive is our investment in both people and technology. Our people are adaptable, fast thinking and innovative whilst our technology allows the company to provide customers with real time stock management, active tracking and visibility of goods in transit, reduce transportation costs, and improve efficiency and supply chain operations.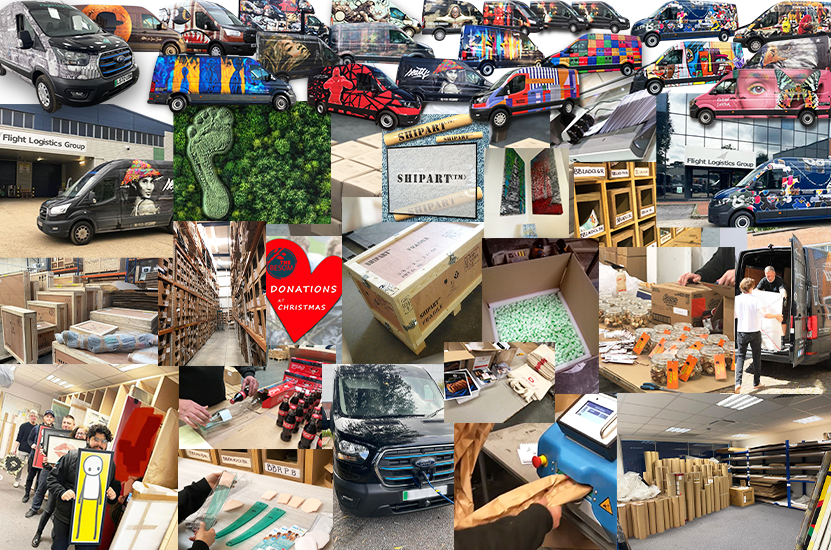 In addition, we have also prioritized sustainability in our operations (please visit our ESG page). We have implemented numerous initiatives aimed at reducing our carbon footprint, such as investing in fuel-efficient and electric vehicles, optimising transport routes, and encouraging the use of renewable energy sources in our facilities.
We have also been fortunate to be able to support charitable causes and art projects each year which match our sustainability objectives.
Reflecting on the past 32 years, our Managing Director and founder Tracey Brown said, "I am incredibly proud of what we have achieved as a company. From a team of 4 "multi-taskers " , we have grown the company through our vision, adaptability and understanding of risk and it's thanks to the hard work and dedication of our employees, and the trust and loyalty of our clients."
Looking ahead to the future, we are well-positioned to continue our growth trajectory, as the demand for logistics services is expected to increase with the continued expansion of international trade and e-commerce whilst our ShipArt team continue to carve out our niche art sector services.
Our commitment to innovation, sustainability, and customer service will undoubtedly continue to drive our success in the years to come.