"In 2016, as part of the celebration of our corporate 25th anniversary and our 10th anniversary for our specially developed ShipArtTM services, I decided to mark the occasion with the launch of our "ArtOnWheels" project. As our ShipArtTM roots are embedded in the street art scene, it was a natural progression to develop a concept that offered potential audiences and communities, (that perhaps didn't have the time, money, or inclination to visit a formalised, traditional gallery or exhibition space), a way to enjoy art 'on the streets'.
Our drivers are out every day collecting and delivering art throughout the UK and Europe. Putting art on to our specially equipped art vehicles gave us the perfect opportunity to showcase different artists and styles of art, and actively help make it accessible to a wider audience. As the "ArtOnWheels" project has gained momentum (pardon the pun!) over the past 6 years, and my own experiences with artists and art have developed, it has become clear to me that the visuals we surround ourselves with and the imagery we engage with, has huge power over our subconscious. I strongly believe that exploring and giving opportunity to artists and groups who are underrepresented in the traditional art market (due to bias, lack of opportunity, not "fitting the model") is essential to our collective understanding of and empathy towards, others, cultures, communities, and causes. Our choice of artistic collaborations has evolved to reflect this."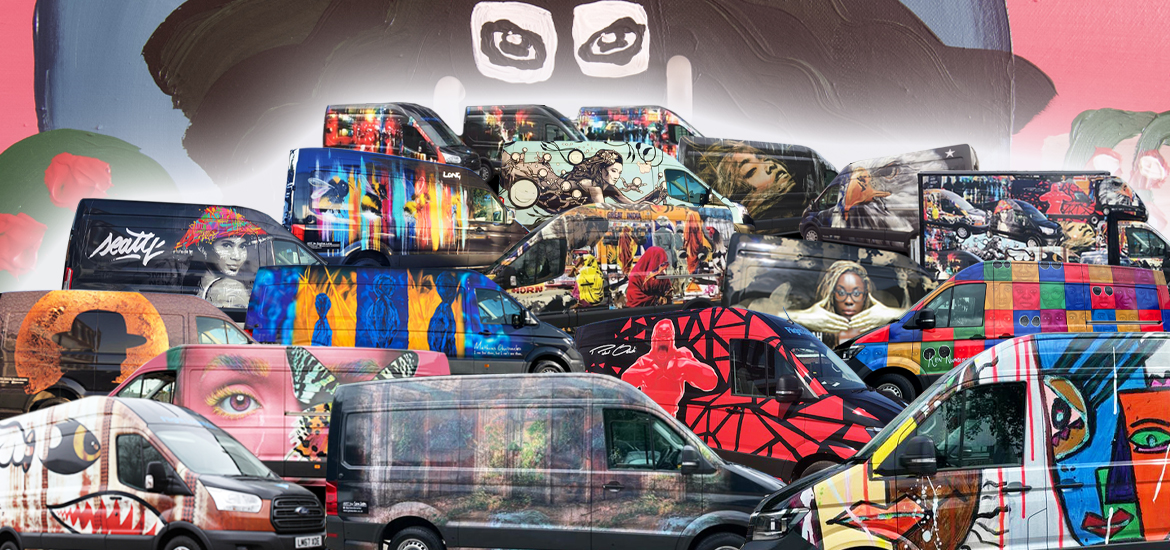 "Now in 2022 we have 20 vehicles already wrapped with three more in the pipeline this year! Our 21st vehicle wrap will be our third collaboration with Undiscovered Canvas and with this wrap, we are coming full circle back to artist Lesego Seoketsa. Lesego first came to my attention in 2020 when she entered our global open call for a vehicle wrap artist, although in this instance her submission was not successful with the selection panel her artwork was in fact my first choice! I subsequently bought the artwork she submitted and also directed Nomaza to her profile. She seemed to me – as a young, female, South African creative working in acrylic, oils, and photography – to be a perfect fit for Undiscovered Canvas' talent platform, and still in a very explorative and experimental phase in her career.
I was delighted this year when Lesego was selected for the Makwande Art Residency. I was very happy to sponsor the residency in a personal and professional capacity and it was wonderful to have the opportunity to finally meet Lesego this Summer – 2 years after our paths first crossed "on-line". The collection of works produced through the residency are perfectly suited to a vehicle wrap and I hope that we give Lesego a great UK showcase for her artwork prior to her first London show early next year.
It becomes more and more challenging to make each subsequent vehicle wrap totally unique in style, imagery, and narrative, but we have absolutely succeeded with number 21!"
Tracey Brown
Managing Director