British photographer Gina Soden is renowned for capturing derelict architecture and abandoned interiors. She recently saw two of her works selected for The Royal Academy Summer Exhibition and they will be on display at Burlington House, Piccadilly, London from 21st June to 21st August 2022.

Today, Flight Logistics-ShipArtTM are extremely proud to fully unveil the Gina Soden #ShipArt #ArtOnWheels art van No. 20 as it hits the road with its body of art professionally wrapped by our partners Joyce Design Ltd.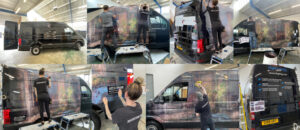 The wrap process at Joyce Design Ltd


Freshly wrapped and part of Flight's art transporter collection, the Gina Soden vehicle (above) will be shipping art across the UK and on occasion internationally.

Producing these wonderful vehicles sporting extraordinary artwork created by celebrated artists, is particularly important to us. Not only does this creative fleet build trust and confidence when we collect or deliver artwork in them, but it also allows us to bring art to the streets where the public can enjoy it.

Please do take photos and send them to us at marketing@flightlg.com or post them on online if you see one.

For more information about these unique art transporters, visit our ShipArt Vehicle Wrap Public Art Program page.