…
To help individuals understand today's art marketplace, #sellbuyart is a collection of guest articles written by artists, gallerists, exhibition organisers, online sellers, buyers and collectors. They provide valuable insights into the journeys, experiences and views of others in the art sector.

We've been catching up with some of our original #sellbuyart contributors to see how things have progressed for them since we published their articles revealing their views and stories.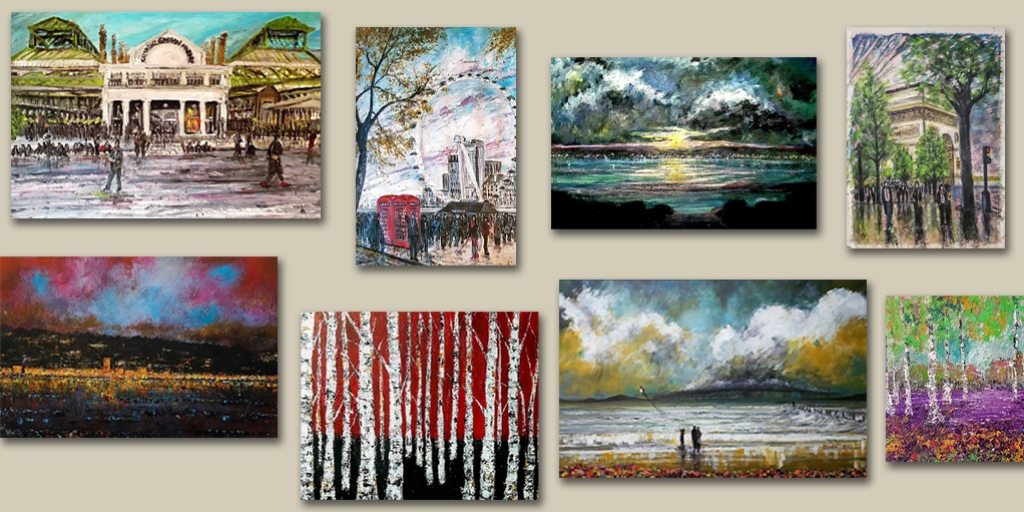 DARREN HALL – LANDSCAPES


Artist – Darren Hall
Darren Hall's article came out in Feb 2019 when he had this to say:

"To give you some perspective … I have certain medical ailments, mobility, and mental health issues, that positively feed my style of art … and strengthens my drive to be successful, but it also hinders my ability to attend events and to progress my love of art into a career. I'd love to know…What are the best solutions for disabled artists who need to get their artwork seen in "the flesh," but who like me, find it hard to attend or afford the costs".

One year on, we asked Darren the following questions:

Q. Since writing your #sellbuyart article we've noticed that your art has been exhibited "in the flesh".
A. My work is currently on show at Direct Art Action UK which is a gallery based in Birmingham. It's a sizeable place so unfortunately my work gets a little lost in there which is a shame.

I'm also showing at Gallery du 808 (and on their website) where my work is receiving a healthy level of attention. Their support takes away a lot of the salesy requirements which frees me up to do what I love to do…paint.

Q. How does this make you feel about your future?
A. I have a lot of low moments due to my disability, so when something like this happens it really gives me a lift. As you know, getting people to see my work in the flesh is so important to me, it looks good online, but really comes to life when you're in the room with it.

After being told in 2019 that I could never work in a normal work environment again, having my work exhibited, feels like such an achievement. In fact, getting the bad news was the catalyst that made me think 'right I'm going to achieve my goals as an artist'. The social media buzz this creates is also amazing, so excited to get likes, follows, etc. on Instagram, Facebook and LinkedIn.

Q. In between your #sellbuyart article in Feb 2019 and now, how do you find the market has reacted to your art?
A. As mentioned earlier, my art is gaining interest with buyers, galleries and exhibition organisers around the world who seem now to be actively sourcing my work. This is all good news, but the problem I have, is cost. To pay £600 a day to exhibit in Dubai or £1,000 in New York for example, is higher than any of my work sells for. Although I am told my pieces are worth more than I'm selling them for, I am happy for now to keep my prices as they are, so to meet exhibition costs like these is hard. I have recently been made aware of sponsors and investors who could help finance this, another avenue to explore maybe. I must admit I am so overjoyed to be taken this seriously.

Q. What else have you been up to since?
A. My style of art has moved in many different directions as a result of my reaction to each health diagnosis and treatment that comes along. The profound reaction that I experience from each makes my art more expressive and vivid. As a side note, during these times, I find I get a better result from painting than drawing.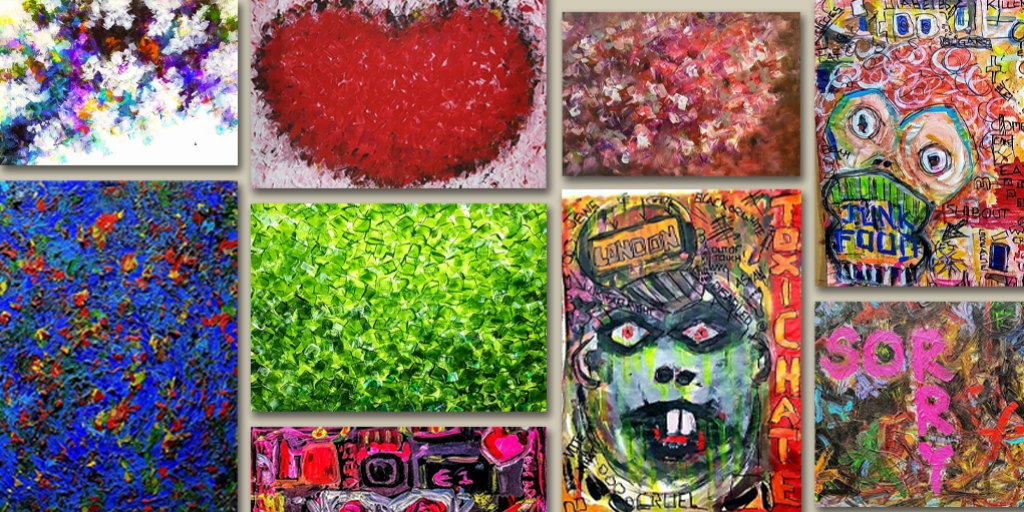 DARREN HALL – IMPRESSIONISM
Interesting facts about Darren Hall:

Q. Apart from the promotional aspect, what value did collaborating with us on your original #sellbuyart article have for you?
A. I personally want to thank you all no matter how small you think you might have helped me; it has had a massive impact on me.

I have had a lot of help from so many people in 2019 into 2020. I have gained so many valuable friendships and acquaintances who without knowing it, have helped me to push my art out into the world. I'm talking mainly about the Flight Logistics team, who have been wonderful people to deal with and to get to know.

Q. How do you work, what's your formula, how often?
A. I have many health issues and understanding how far to push myself has massively impacted on my life. I didn't truly understand how harmful the levels of tiredness I was experiencing was.

I've been advised how to recognise the symptoms and when to rest. I try to work every weekday and rest over the weekends. I often have 3 to 5 paintings on the go at any one time so I can flip between them in response to my mood swings which helps me get the best results for each.

Q. What does your art mean to you?
A. Second to my family, it's everything to me. I need art every day to function and I need art for my health in so many ways, (apart from medication) it is my therapy. Art allows me to express myself in ways I could not in any other way, you can see me in my art!

Q. How do you seek out opportunities for sales and promotion?
A. It's a mixture of people and organisations I have dealt with approaching me, and reaction from some of my own social media posts. I put a lot of energy into self-promotion in an effort to attract people to my work.

Q. Where is you favourite or most inspirational place?
A. I was always drawn (pardon the pun) to Dartmouth or London for cityscapes with my ink drawings. Now I see Scotland and the area around Stirling as the inspiration I needed for my paintings. We are moving to Rutland in July 2020 and I can already see myself doing a lot of plein air artwork there. My mobility scooter Jonty will be very busy!

Q. What's the best piece of advice you've been given (art related)?
A. I find this hard to answer as many people have been instrumental in building my confidence and drive. The best advice often comes at random moments and (due to my disabilities) I cannot remember who said them, but without them I would not be where I am with my art. Mainly it is my wife, friends, or medical teams. Some are not aware of the effect that their words have on me, and how it gives me strength. In return, I try to help others in the same way.
Our thanks to Darren for his participation in our #sellbuyart series.