…
Believe it or not the National Lottery is celebrating its 25th birthday and during that time they have paid out £40 billion for good causes across the UK. To celebrate this milestone and achievement they are staging numerous events across the UK. The first of these took place in Manchester on Wednesday 16/10/19 at Booth & Howarth a shop that's been selling National Lottery tickets for 25 years.
Flight Logistics-ShipArtTM had the honour of delivering the centre piece for the event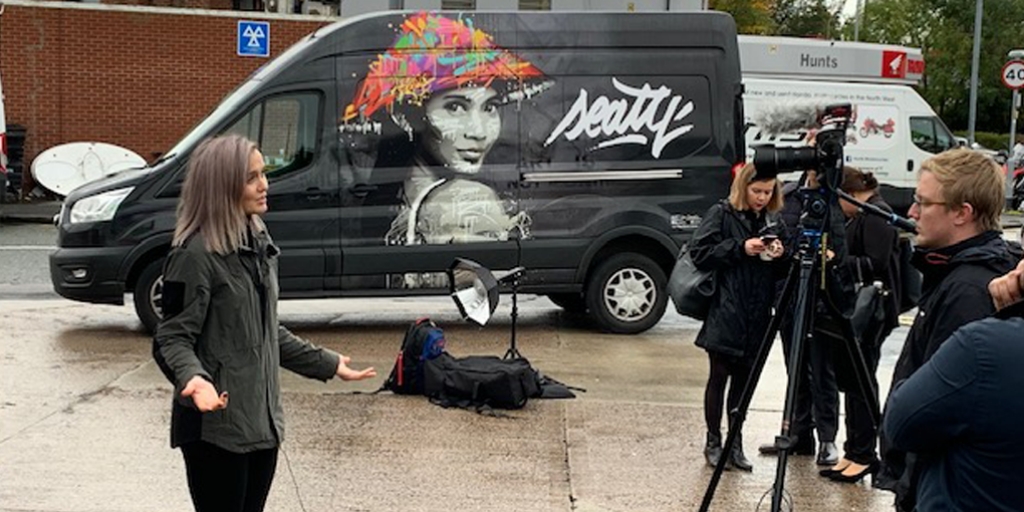 Flight Logistics-ShipArtTM latest ArtOnWheels vehicle by Seaty – Victoria Pendleton in foreground
The occasion was managed by experiential marketing agency Woof London, who needed to get a large painting by David Mach onsite. Company Director, James Farmer explains:
"Woof London delivers memorable and engaging live events and as such our brand value depends on everything running smoothly. Just so glad that we put our trust in Flight Logistics-ShipArtTM who collected the artwork by David Mach, stored it safely until it was needed, then delivered it in one of their amazing ShipArt ArtOnWheels vehicles (Seaty), and then erected the artwork on a stand at the location. Thank you Flight, great service… Woof London brand intact!!!!"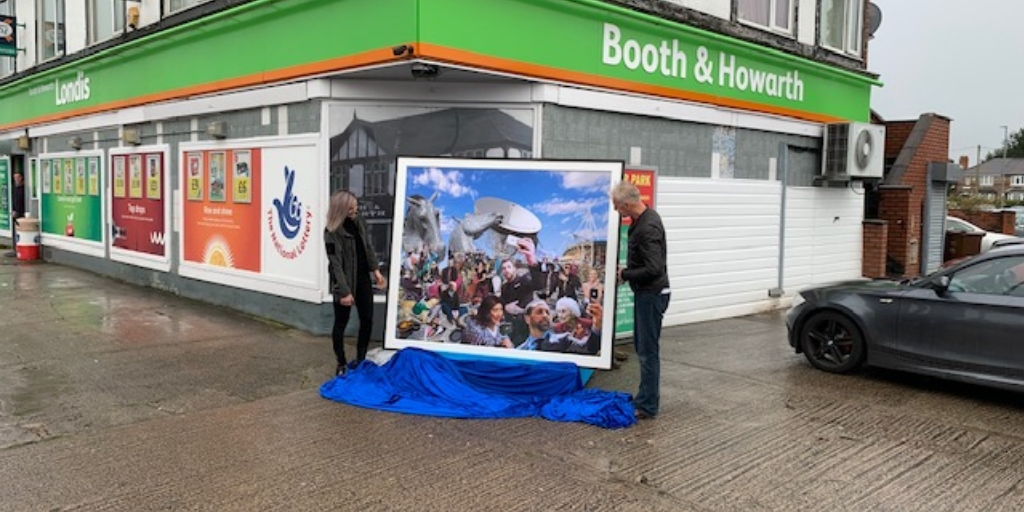 David Mach and Victoria Pendleton CBE by "United By Numbers"
The artwork – "United By Numbers"
David Mach created an astonishing piece made up of 25 inspiring elements such as people, places and organisations who have all been supported by The National Lottery. This included Idris Elba's movie Hardie, 96-year-old Bletchley Park veteran Betty Webb MBE, and winner of 4 Olympic gold medals Dina Asher Smith. Former Olympic champion Victoria Pendleton was there to help David unveil his work.
We were delighted to be chosen to manage this art shipment and warmly invite any enquiries or quote requests.