…
Welcome to #sellbuyart
To understand today's art marketplace we feature occasional guest blogs written by artists, exhibition organisers, collectors, online sellers and gallerists who have all written about their experiences. Their articles have been insightful and extremely helpful for other artists and businesses involved in promoting and selling art in today's marketplace.
This is talented artist LEANNE HUGHES' amazing story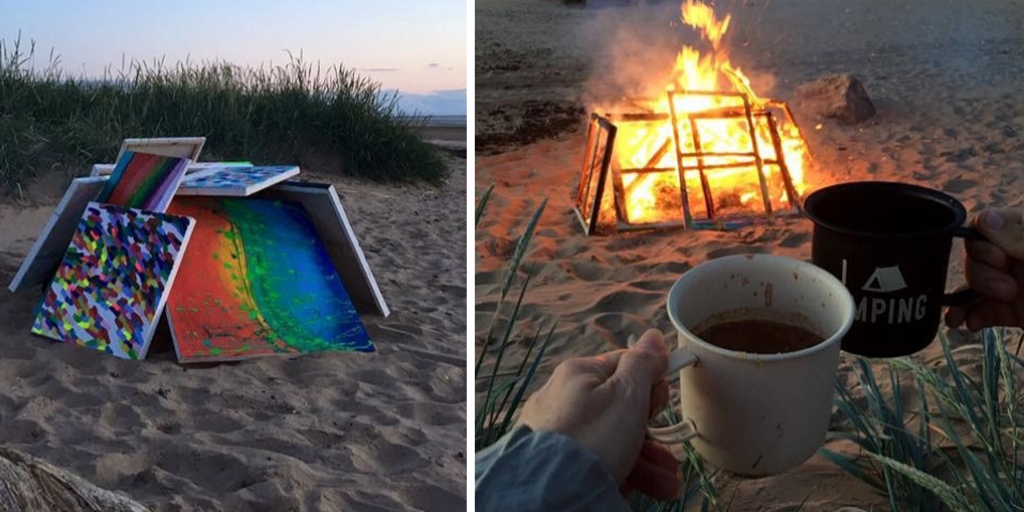 BURNING ARTWORK
"Something had to change, I needed a clear-out… of both the art I created and hated, and my own mind-space. So, I took a whole load of my paintings down to the beach, made a bonfire and set them alight! As I watched it burn, I let go of all my frustrations, and allowed in the possibility of starting afresh".
Disillusionment with gallery-representation as a way of selling her art and entering a period of 'artist's block' led artist Leanne Hughes to take this destructive but cleansing step in her life. She needed a positive change.
It worked…
"I have a yearning to be constantly surrounded by nature. I grew up in a small town spending every summer outdoors from dawn 'til dusk. When indoors I was always drawing and making things, and this need to be creative since I was old enough to hold a pencil has never left me.
My favourite place to be in the world is in the forest, spending time in nature is good for the soul, and whenever we are surrounded by four walls I think it is important to bring the outside in, with flowers and plants, and of course, nature-inspired art.
I spent many years after leaving school, working in care, whilst bringing my children up, but the severe lack of job satisfaction along with deciding to leave a very unhappy marriage, left me in a state of despair about being on the wrong path in life. So, I jumped into the scary unknown and pursued my art career whilst going through a divorce at the same time.
I completed my fine art degree whilst setting up a new home for myself and my children. It has been an exciting and enlightening journey, one that has made me an emotionally stronger and more resilient person than I ever thought possible.
For several years, I sold my art mainly through online galleries, but it got to a point where I was becoming extremely frustrated about the lack of promotion and also having to raise my prices by up to 50% to cover the gallery commission fees. At the same time, I wasn't producing the sort of art that I knew I was capable of.
Then I burned my art…Pretty quickly my mind was clear from doubt and confusion and I started to produce what came naturally, I let it flow.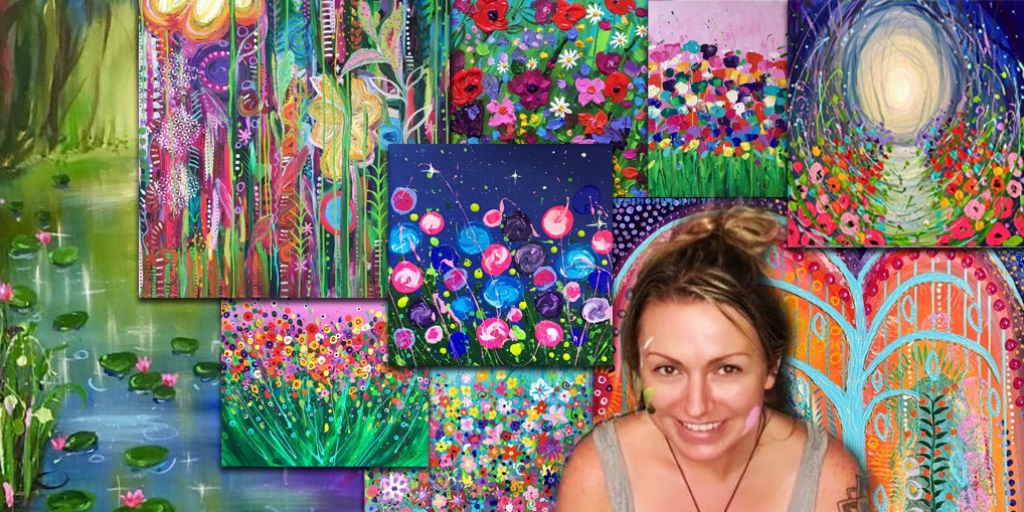 LEANNE HUGHES WITH STUNNING NEW GENERATION ARTWORK
I also changed the way I promoted my work. I have since been doing all my own promotion online and in person. I now feel satisfied that when a customer buys a piece of my art, that they are not over-paying by 50% to line a gallery's pockets. It is now a lot more affordable, which means my 'good vibes art' is now being enjoyed by more people.
The downside of this though, is that I am spending less time actually producing art because I am maintaining my online presence, and as I'm not trained in Marketing, it is very difficult to know how to grow my followers and reach a wider audience.
I hope someday to be able to use my talent for the greater good. I have ideas up my sleeve and perhaps one day soon all will be revealed! In the meantime, I am also exploring a different avenue of inspiration, and more about that can be found on my Facebook, Twitter and Instagram pages."
Do artists and galleries receive more interest and better sales at art fairs, art gallery, or selling art online? Does one drive footfall to the other? Do you simply get a different type of buyer at an art fair rather than an art gallery? Do you get a lot of viewings at art fairs but not many sales? And how successful are online art stores for selling art? What makes one succeed over another?
Brought to you by Flight Logistics-ShipartTM
Why are we qualified to manage the debate?
As a professional art shipping company based in the UK, ShipArtTM sits in the middle of the art sector and builds lasting relationships with artists, galleries, collectors, investors, curators and organisers of art fairs. From this position and with a genuine interest in all things art (our staff are art lovers and collectors), we are perfectly positioned to take a neutral stance and draw upon our community to bring you a wealth of opinions on the subject of buying and selling art in the current market.
Get involved, have your say…
We warmly invite you to get involved by providing your views on this subject. Please provide you details in the form below and we'll contact you. We will create a similar look to the above article and after a final check with you, will publish it across our social media channels for the benefit of others.