…
This is the tenth guest blog in the #sellbuyart series that features responses from both buyers and sellers in the art sector.
Below Susie Hall has shared her experiences mainly to help 'newbie' artists looking for guidance and answers in today's art marketplace.

Do artists and galleries receive more interest and better sales at art fairs, in the art gallery, or selling art online? Does one drive footfall to the other? Do you simply get a different type of buyer at an art fair rather than a gallery? Do you get a lot of viewings at art fairs but not many sales? And how successful are online art stores for selling art? What makes one succeed over another?
About Susie Hall
In 2013 one of Susie's paintings (City Lights 6) reached the semi-final of a Saatchi online Showdown competition. This early recognition of her work marked the start of a successful art career and led to ongoing invitations to exhibit at glamorous and prestigious international locations. Today Susie has collectors in the UK, USA, Ireland, Switzerland and Portugal.
Like many children she always enjoyed painting and continued to do so throughout her teenage years. Over the years she experimented with different mediums including textile and silk painting and pastels and her abstract paintings are borne of her imagination, love of colour and passion to create. Susie taught art at a local school before opening a successful paint-your-own- pottery studio in her home town, which she sold some ten years ago. She now works mainly in acrylics, sometimes oils, occasionally both. Her aim is to evoke a mood or perhaps prompt a thought that words alone cannot convey and, most importantly, to engage the viewer's imagination.
susiehall.org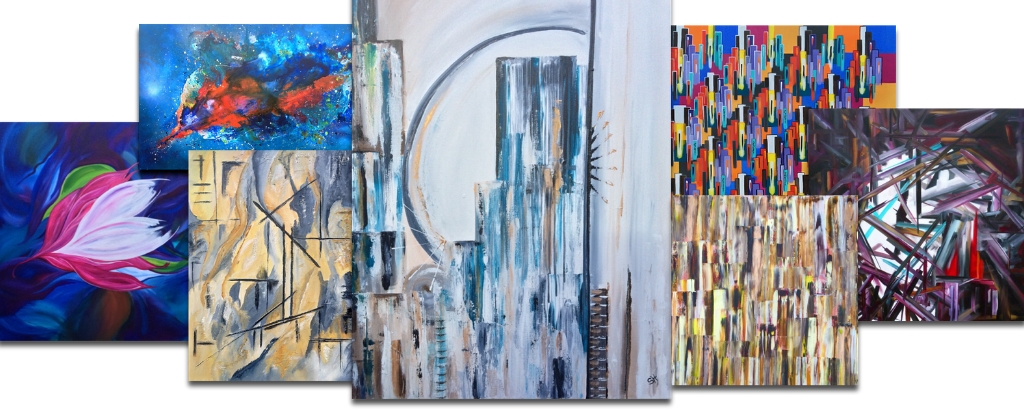 Guest Blog by Susie Hall – An artist's perspective
My advice to 'newbie' artists wanting to make art their career
Having come to the art world relatively late – it took a serendipitous conversation to make me pick up my brushes after more than 20 years – I soon realised that I had no idea how difficult it was going to be to gain any recognition.
Very early on, I took the advice of an established artist who told me, "You need a strong online presence, a body of work of at least 30 pieces before any gallery will look at you, and remember, it's all about the product." In addition, I would say that you have to be a bit selfish (especially in the early days) foregoing much of a social life and concentrate on your art business, because that is what it is. You are the producer and you want to sell your wares. You have to be dedicated, constantly experimenting, practicing and developing your work. There are no weekends, even if you are also working a 'day job'. You need support from family and friends.
I have approached many galleries and have generally found it frustrating and often pointless. Most don't even bother to reply to e-mails or submission enquiries, which I consider to be unhelpful and unprofessional. It seems most prefer to stick with the tried and tested rather than risking something different.
As for art fairs and 'pay-to-display' exhibitions, I have concluded that the organisers are usually more interested in the artists' money than their art. It's not a game that I want to play, with one or two exceptions. One should also be aware of 'vanity' galleries that operate in a similar way.

PAINTINGS BY SUSIE HALL
However, never, ever, give up, although at times it may be tempting. If you were to do so it would negate all the time and effort you have already dedicated to your art. Promote your art and yourself on social media and always reply to comments about your work and support other artists by commenting on theirs. It's about building relationships and trust. Be reliable. Sales are the icing on the cake; unsold work is simply your 'stock'.
I would add that as well as behaving professionally, you need to be sure what you are offering is professional and has value. It must be finished professionally and be as good as it can be. Use the best materials you can afford. You must value your work if you expect others to. It is hard to be objective about one's own work but we must be honest with ourselves; we all have work that doesn't quite 'hit the mark'. Move on and try again.
Also, paint only for yourself. Try not to be distracted by what other artists are doing but follow your own path and make your own mark. It is you that potential buyers will engage with. It is the relationship that you will build and which will make those buyers want more as they follow you, see how your art develops and who will become your advocates. What an honour, to have them love what you do enough to want to own it and live with it, a part of you, every day.
Persistence pays off: I have exhibited in London and in several other UK venues and internationally. I have sold to clients in USA and Europe as well as the UK and am represented by Okk Arts and Little Van Gogh. Recently I became an Associate Member of the Guild Society of Artists. All as a result of promoting my art on social media.
Brought to you by Flight Logistics-ShipartTM
Why are we qualified to manage the debate?
As a professional art shipping company based in the UK, ShipArtTM sits in the middle of the art sector and builds lasting relationships with artists, galleries, collectors, investors, curators and organisers of art fairs. From this position and with a genuine interest in all things art (our staff are art lovers and collectors), we are perfectly positioned to take a neutral stance and draw upon our community to bring you a wealth of opinions on the subject of buying and selling art in the current market.
A word from Flight Logistics ShipArtTM
What is becoming apparent through these valuable guest blogs is that we live in a day and age when artists have much more control over their careers. It's been mentioned more than once that an important aspect of successful sales is the personal touch that the likes of art fairs and exhibitions provide.
Just make sure that there is a professional art shipping company on stand by for the last part of the trade.  Don't forget amidst the excitement of any art purchase how important it is to use a professional art shipping company for delivery – packing, insurance and shipping are often last minute additions to the process – they can be an integral part of the process with the right advice – check out our previous blog articles with free advice and email us for quotes and more specific information
Our testimonials speak for themselves!
Look out for Part Eleven in this series. Follow us on any of our social media channels to be sure of receiving this.
Get involved, have your say…
We warmly invite you to get involved by providing your views on this subject. Please provide you details in the form below and we'll contact you. We will create a similar look to the above article and after a final check with you, will publish it across our social media channels for the benefit of others.