…
This is the ninth guest blog in the #sellbuyart series that features responses from both buyers and sellers in the art sector.
Below Darren has shared his experiences to help others looking for answers in today's art marketplace, but by doing this, he's also hoping that his fellow artists can help him and other disabled artists with a bit of advice.


Do artists and galleries receive more interest and better sales at art fairs, in the art gallery, or selling art online? Does one drive footfall to the other? Do you simply get a different type of buyer at an art fair rather than a gallery? Do you get a lot of viewings at art fairs but not many sales? And where do online art stores enter into things and how successful are they for selling art? What makes one succeed over another?
About Darren
Darren describes himself as "predominately a contemporary, expressionistic, impressionistic painter of landscapes & beachscapes". He also works with pencil and ink, but what he creates is dependent upon his brain functioning as it should at any one time. He has such vivid away moments that it influences his distinctive style, and his paintings can and do alter direction during the process of creating it. It adds intrigue to the finished artwork.

Guest blog by Darren Hall – An artist's perspective
My experiences and views on promoting and selling art
"To give you some perspective before you read the following piece, I have certain medical ailments, mobility, and mental health issues, that positively feed my style of art… enhance my capacity to tell really bad jokes and strengthens my drive to be successful, but it also hinders my ability to attend events and to progress my love of art into a career. I'd love to know…
What are the best solutions for disabled artists who need to get their artwork seen in "the flesh," but who like me, find it hard to attend or afford the costs required by galleries and art fairs? Is there any free space out there?
I know that Flight Logistics – ShipArtTM have been involved in various "art related" charities or good causes, so I'm glad to be writing this guest blog knowing the kind of audiences that will be reading it (Migrate Art, Artichoke Trust and Movember for starters). I love that art can be instrumental in changing people's lives. I'm also delighted that artists, gallery managers, buyers and collectors will be among the readership as well.
I am new to selling my art and although it is an exciting step in my art career, it is also a really daunting experience. It would seem to me that it is also an expensive process to get your art in a place where people can actually see it, experience it and hopefully, to buy it! In the past few months alone, I have had the honour of being invited by over 20 galleries to have my art displayed with them, but the costs involved are too high for me, so I have to politely reject my participation each time. For an artist looking to promote their work and to make art their career, having to reject these offers is truly painful and disappointing!
When you consider that one of my larger pieces of art sells for a maximum of £600, paying in the region of £800 to exhibit one of them in locations such as London or Rome for example, is not only completely out of my league currently, but also not cost effective.  Of course, the likes of galleries and art fairs have to make up their costs for holding an event, I understand that, but what concerns me is, will these galleries come knocking again if I decline their first approach. I doubt it very much.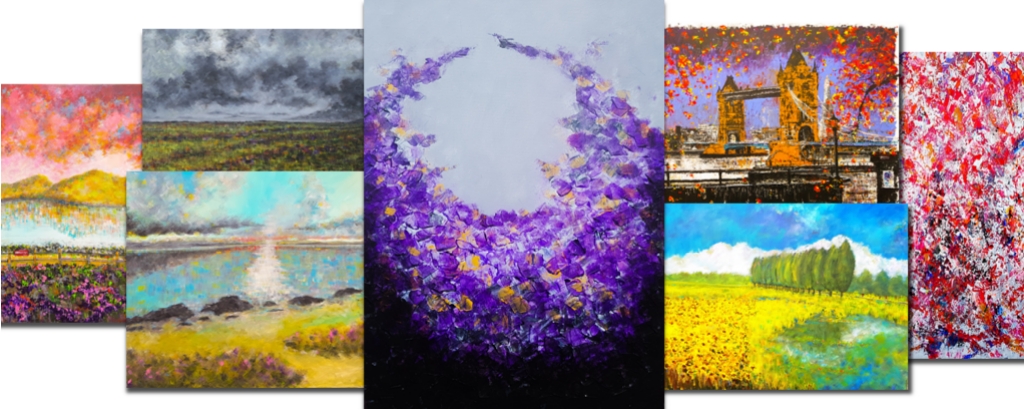 ART BY DARREN HALL
Currently I sell my art online through my website and a third-party online store as it is simply the cheapest way for me to do so. Therefore, online sales or social media appear to be the only way forward for me to progress my art.
Individuals and galleries who see my art online are intrigued. They can see the potential but as my family and friends tell me, my art in person is so much more vibrant. To be honest, displaying my art in an environment where people can experience it, would naturally ignite interest far more readily than an online image. I am unsure how to get through the cost hurdle. Selling art, and putting some money aside could be one option, another would be to take out a loan and hope that the pieces sell. This is risky and I cannot afford to be taking risks on each and every fair, or gallery participation to get noticed.
I have a final thought/question. Is there already in existence, or could there be the potential, for galleries or event organisers to set aside a small area for disabled or upcoming artists free of charge? I'm quite sure that we would offer the marketeers or advertisers of the event, a nice storyline to attract attention whilst delivering on their social responsibilities? Just a thought.
I would be delighted to hear feedback or advice, and if you have made it this far, thank you for reading my ramblings".
Brought to you by Flight Logistics-ShipartTM
Why are we qualified to manage the debate?
ShipArtTM sits in the middle of the art sector and builds lasting relationships with artists, galleries, collectors, investors, curators and organisers of art fairs. From this position and with a genuine interest in all things art (our staff are art lovers and collectors), we are perfectly positioned to take a neutral stance and draw upon our community to bring you a wealth of opinions on the subject of buying and selling art in the current market.



A word from Flight Logistics ShipArtTM
What is becoming apparent through these valuable guest blogs is that we live in a day and age when artists have much more control over their careers. It's been mentioned more than once that an important aspect of successful sales is the personal touch that the likes of art fairs and exhibitions provide.
Just make sure that there is a professional art shipping company on stand by for the last part of the trade.  Don't forget amidst the excitement of any art purchase how important it is to use a professional art shipping company for delivery – packing, insurance and shipping are often last minute additions to the process – they can be an integral part of the process with the right advice – check out our previous blog articles with free advice and email us for quotes and more specific information
Our testimonials speak for themselves!
Look out for Part Ten in this series. Follow us on any of our social media channels to be sure of receiving this.
Get involved, have your say…
We warmly invite you to get involved by providing your views on this subject. We will create a similar look to the above article and after a final check with you, will publish it across our social media channels for the benefit of others.