Our series of Feature Friday articles introduce interesting artists and art forms to our online audiences.


Introducing Jon Foreman and Sculpt The World
There's something magical about Jon Foreman's land art, his use of natural landscapes to construct site-specific sculptures and shapes by blending in local objects such as stones, sticks, leaves and water. Being outside and free from the constraints of a room, it speaks to the inner adventurer in almost all of us. It seems so much more than art, his large-scale pieces that can cover a beach, instigate a kind of freedom from our own limitations.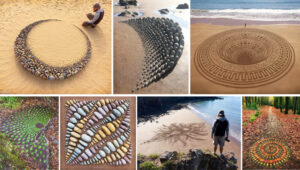 This and header images sourced from Sculpt The World's Instagram channel – @sculpttheworld


Unlike mainstream artworks that enjoy the protection of a controlled environment, Jon's work eventually disintegrates sometimes soon after creation. This is a result of nature's activities such as tides coming in, wind and heavy rain. The only long-lasting clue to their existence is an artistic close-up or aerial shot of each which can be seen and purchased on the Sculpt The World website. This all adds to the magic of Jon's art.


Where can you see and buy Jon Foreman's work?

Online – The Sculpt The World website is – www.sculpttheworld.smugmug.com

In person – That's a tricky one due to the nature of the art, it's perhaps only possible if you are in Pembrokeshire soon after it's been created.

On Instagram – @sculpttheworld
On Facebook – Jon Foreman: Sculpt The World


If you would like to be considered for one of our Feature Fridays, please email marketing@flightlg.com