Once again many of our beloved galleries, museums and exhibitions have had to close their doors to the general public again due to Lockdown v.2. Fear not though – art business models were well adapted during Lockdown v.1 – on-line sales continue to thrive again with fresh websites, virtual gallery tours and loads of art giveaways and inspiring art content on social media.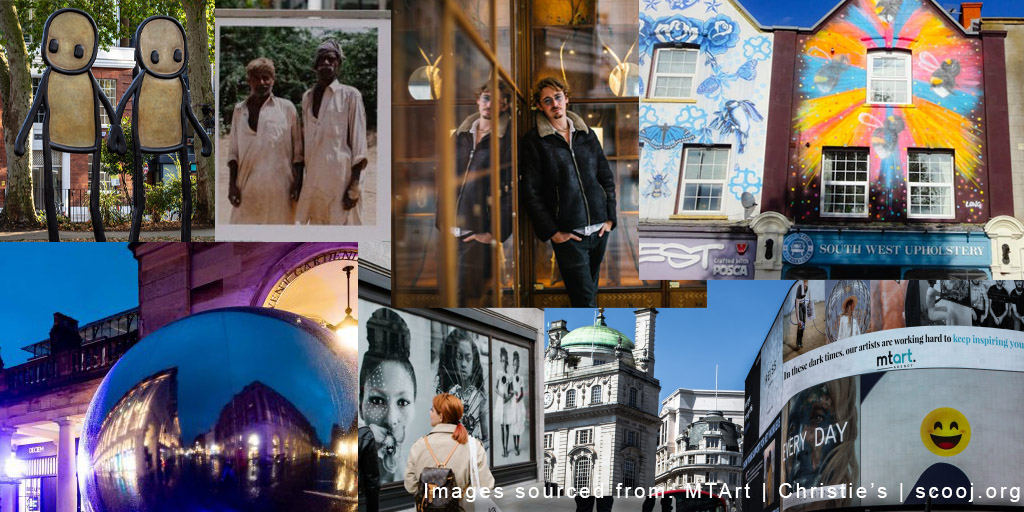 There are many places of course that you can still enjoy artwork – plenty of public art projects on view as you take your daily exercise – Here are just a few examples relating to some of our clients:

In London our friends at MTArt Agency have organised a series of public art opportunities, for example if you take a walk down Regent Street, Vigo Street, Conduit Street, or walk through Covent Garden, St James's Market Pavillon, King's Cross Tunnel, and Piccadilly Circus, you'll see work by artists; Delphine Diallo, Léo Caillard and Àsìkò, Mahtab Hussain, Ben Cullen Williams and David Aiu Servan Schreiber. Further information on these can be found on the MTArt website

One of our favourites is Stik's monumental public works of art in Hoxton Square, Hackney which has been aligned with their free art giveaway to all Hackney residents through the inclusion of Stik posters in all local newspapers.

Further out of London is Bristol's famous North Street where Upfest Gallery is situated and awesome graffiti lines the street including our ShipArt artist Sophie Long's famous and vibrant bees…

And of course, there's our fleet of #ShipArt #ArtonWheels vehicles with their wraps of art by well-known artists. You'll see them on the roads everyday – even through lockdown – as they go about collecting and delivering artwork. If you spot our most recent wrap by Mathias Chirombo take a photo on your phone and upload to instagram and tag us – we have some Brand South Africa goodies and a stunning print of the artwork to give away.

Getting your daily art fix has actually never been easier – inspite of Lockdown – uncertainty and social and economic challenges have always driven creativity – long may they continue to do so !