…
We're delighted to reveal that we have collaborated with Galeries Bartoux and the next addition to the ShipArtTM ArtOnWheels (#ShipArtAOW) series, will feature artwork donated by renowned artist Seaty. Vehicle number 11 will be wrapped and on the road next week !




Artist Seaty with artwork


What can we expect from Seaty
Seaty is a French artist born in 1983. His personal quest for identity and his thirst for freedom led him, at the end of the 90s, to find the hip-hop movement. This cultural, musical and artistic movement helped him to discover Graffiti Tag Art, which became his main interest. He began his "tags" in the street where he developed his first "wild creations".

From 2008, with his experience in open-air graffiti, he chose to give a new direction to his work. Entirely self-taught, his work has evolved while still preserving the codes of urban culture.

In 2012, he decided to live off his passion and devoted himself entirely to his art. Over time and multiple exhibitions, he was able to develop his own style. Inspired by his emotions and experiences, he wants to share his vision of urban art, which is very rich.





Artwork by Seaty – Pictures taken from Galeries Bartoux website


ShipArt™ – ArtOnWheels Fleet (#ShipArtAOW)
It's all about showcasing artwork in social environments by actively bringing it to the streets for all to enjoy. Through working with renowned artists like Seaty, and galleries like Galeries Bartoux, Flight Logistics-ShipArt are achieving their objective.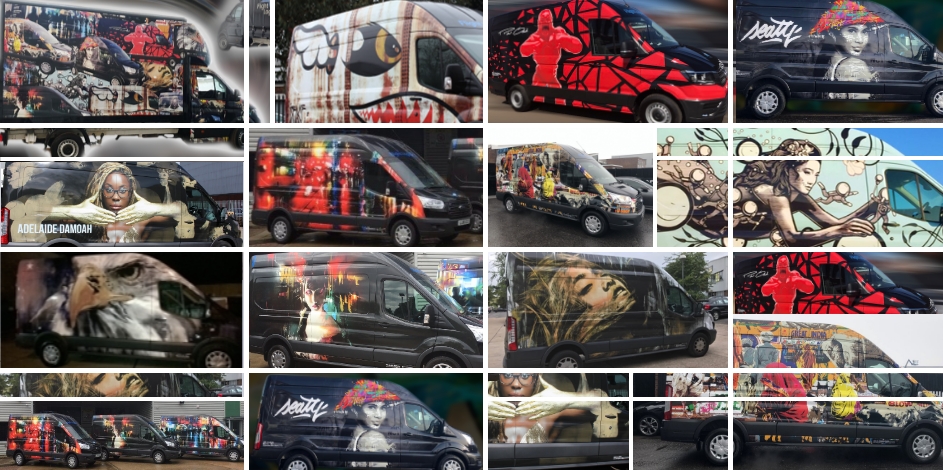 Flight Logistics-ShipArtTM ArtOnWheels (#ShipArtAOW) series


The #ShipArtAOW series allows artists to reach audiences that don't traditionally visit galleries or places of art, improving their profile, broadening their audience, whilst overcoming some of the traditional preconceptions of art being "exclusive".

Artists whose work currently features on our vehicles are: Dan Kitchener, D*Face, SNIK, The London Police, Jim Starr, Adelaide Damoah, Natasha Kumar and Richard Orlinski.

We'll keep you updated with further progress. Follow us on any of the social channels as shown below, to keep abreast of this and other posts featuring appropriate and useful arty facts.