…
The first half of June 2019 offers something really exciting for artists and art lovers living in or visiting the Surrey area. In case you aren't aware, Surrey Artists' Open Studios (SAOS) have launched their biggest Summer event to date, a county-wide art occasion running between 1st to 16th June, and incorporating some 180 studios and 297 artists spread across the county!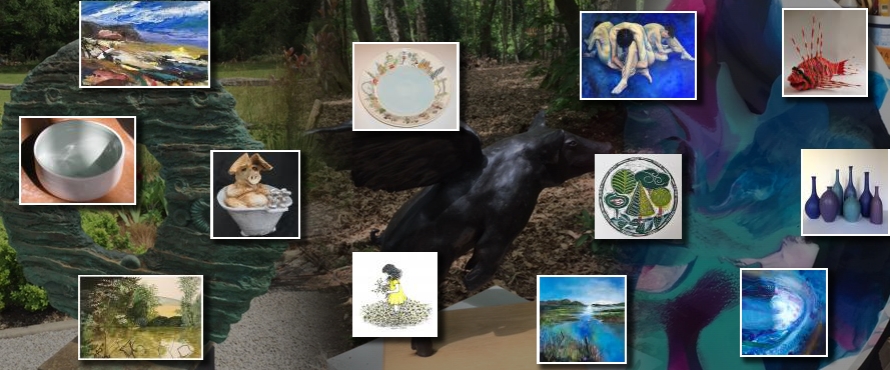 We took the opportunity to visit a selection of studios and met some great people both artists and visitors. The experience at every location was fantastic and provided an opportunity to meet the artists and chat about their work. It's a social event full of creativity, art buying, and inspiration.
We met talented artist Libby Daniels who left full-time employment a year ago to set up her own studio. Little Green Studio offers artwork including handmade pottery and the chance to create your own in her made-for-purpose workshop based in Haslemere, Surrey. Libby also paints and was clearly inspired by her experience as she dropped us an email afterwards with some wonderful news and the images below:

LIBBY DANIELS – LITTLE GREEN STUDIO – BEFORE AND AFTER ATTENDING THE SAOS EVENT
"The image on the left is the original piece of work I did months ago which I felt didn't quite work. I couldn't see it going anywhere but after a bit of inspiration from the SAOS visits I had a go at re working it and I'm fairly happy now it stands up to viewing!"

Thanks Libby! Looks great.

What's more SAOS have created a useful app to help you to recognise participating studios in your area and it provides you with the ability to create your own trail between them. Why not add a pub en route and make a day of it!

If you want to find out more about the event and the app, CLICK HERE – Search for artists, visit them, buy some great art or be inspired by their work!