Would you bid for artwork from Antony Gormley OBE, or Pure Evil, perhaps a Henry Holland? Pavement Lickers is your chance to own a special piece of art (at a scoop) on a concrete paving slab, and at the same time you'll be helping support the charity, Rett UK. You've got until September 30th to register your interest (link below).


We're no strangers to getting involved with charitable causes (and when it involves transporting art on a concrete slab, we have just the solutions to do it), so when we got wind of the exciting scheme presented through the collaboration of Pavement Lickers, Helium London and Rett UK we had to get involved, and we did!
We donated our professional packing services and built 50 adjustable cases, one for each slab.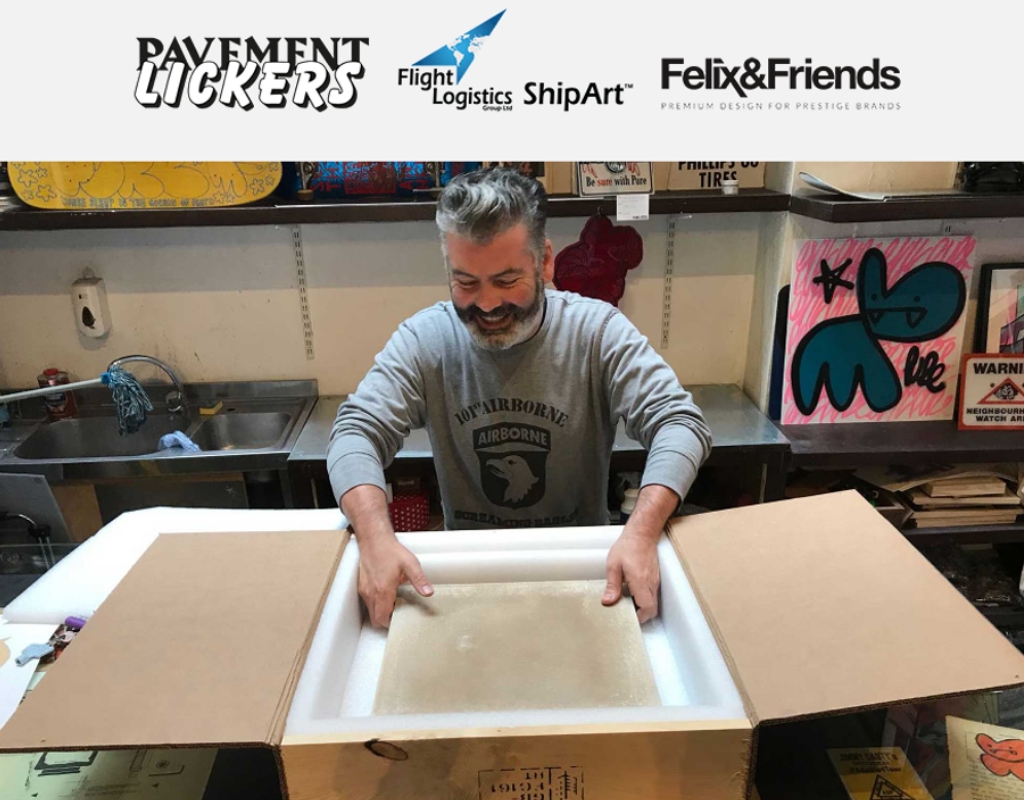 Picture shows Charles Uzzell-Edwards at Pure Evil, unpacking a slab from one of our crates
Each case will go on 5 journeys before its duty is done and delivery to the purchaser has been made, so the cases were built to withstand numerous routes which will potentially include international travel. With this in mind the wood has been treated and stamped to adhere to international import / export regulations. In addition, the internal packing is adjustable, allowing the slab to be delivered nice and snuggly on its own to the artists , then after "artification" and being framed, it will adjust to the required larger size to accommodate the frame as well as the original slab.
So what is Pavement Lickers?
It's all here in an FT article out yesterday – https://bit.ly/2I9lA0z
You must register with Helium London before the 1st of October to purchase art from PAVEMENT LICKERS 2018 – https://bit.ly/2O2OnJU