#poweredbyartists MELT week sees the re-integration of contemporary art into our London cityscape. From the 4th to the 9th October, venues across the city will be opening their doors to art installations, performance works, video art and inspirational talks and we are taking part!
Following Flight's sponsorship of Frieze New York and our support of various other projects to improve the accessibility and appreciation of art for and by everyone, Marine Tanguy first approached us to support the MELT London project in June. One of the artists supported by MT Art  – Will Thomson – was keen to create interactive work using the art shipping crates themselves. As every shipping crate is bespoke and many are discarded after shipping we always have plenty of crates in the warehouse therefore the opportunity to supply Will was just perfect for us.
Additionally MT Art needed help transporting and installing works at various venues  around London and our ShipArt®  vehicles and trained handlers will be available for MELT. The vans are unmissable since they were wrapped in the "urban impressionism" of Dan Kitchener in June!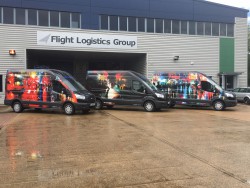 More recently we took part in a podcast hosted by Violet Sessions at the offices of MT Art. Alongside Lauren Gillet from the Camden Collective, Marine Tanguy and artists – Leni Dothan and Gretchen Andrus we discussed bringing art to a wider audience and the participatory experience as well as the potential "Brexit Effect" on the London art scene!
https://soundcloud.com/user-273262516/violet-sessions-ep-2-mtart-melt-festival.