The transportation of dangerous goods is regulated by international and national regulations according to the relevant mode of transport. The reasons for these regulations are to prevent accidents to people, property and damage to the environment. Regulations cover solutions such as packaging conditions, the maximum amounts that can be transported at the same time and the types of goods that can or cannot be carried in the same mode of transport.
The following highlights some of the dangerous goods we can help you with:
Lithium Ion Batteries
Classified UN 3480 – These are batteries that are travelling on their own, i.e. not packed with or installed with the equipment. These require special packaging for transportation and must travel in the cargo on international flights.
Classified UN 3481 – This is when batteries are contained in the equipment or packed with equipment. There can be up to two spares included and can travel in passenger class.
Biological and Infectious substances
Classified UN 3373 – Biological substances are shipped refrigerated frozen, on dry ice or in liquid nitrogen, must comply with current IATA and ICAO regulations for those substances as well. There are specific packaging requirements for this category whether which differs when substances are solid or liquid.
Dry Ice
Classified UN1845
With generally slower customs clearance and transit times due to the effects of local COVID working restrictions and new, post – Brexit border controls we felt that a timely reminder of Dry Ice shipping protocols might be in order due to the time sensitive nature of these packages:
All dry ice shipments require a full delivery address (no PO boxes), contact name, contact telephone number, and contact email address.
All dry ice shipments require a customs invoice – pro-forma
All dry ice shipments require the following information on the customs invoice – full description of goods along with commodity code.
All dry ice shipments to EU destinations require the recipients EORI number.
If any of the above paperwork is missing the shipment will be held or returned – increasing the risk of dry ice expiration and spoiling of shipment – we cannot be responsible for missing or incorrect paperwork.
We recommend packing at least 5kgs of dry ice per 24 hours transit. Deliveries into Europe are very slow due to customs clearance and can take in excess of 3 days (sometimes longer to get through and be delivered).
We recommend shipping dry ice on a Monday or Tuesday where possible – this is due to the additional days transit travelling over the weekend when parcels may be at a hub or in customs with no movement until the following week – leading to the expiration of the ice and spoiling of samples.
We cannot be responsible for spoiled shipments due to expiration of dry ice as a result of customs or shipping delays.
Hazardous Dry Ice Shipments
If goods are hazardous then we will need a statement confirming they are hazardous included on the invoice. Please also inform us of this fact at the time of booking.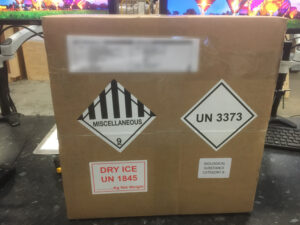 Hazardous shipments on dry ice (containing infectious samples) must be labelled as per the image above.
Non- Hazardous Dry Ice Shipments
If samples being shipped are non-hazardous, we require a one-line declaration confirming that the goods are non-hazardous on the invoice. Please also inform us of this fact at the time of booking.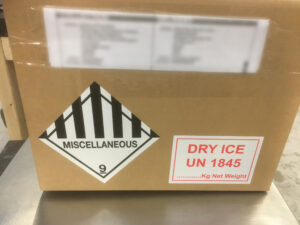 Non-hazardous shipments containing dry ice must only be labelled accordingly and must not have the UN3373 label on the shipment – they must be labelled with the correct stickers as the image above.
If you require any further guidance, please contact our CRM TEAM
"I am so happy to let you know that we had a very successful sale on Friday and raised £262,700!! This money will go to help thousands and thousands of people all across the world. We really couldn't have done it without you guys- it has been such a pleasure to work with you on this. We can't express how grateful we are to have Flight's support. Have a wonderful week and hope to be able to catch up in person soon."
"Thank you @flightlg for all that you do for the ARTS!"
"Keep up the great work – BTW, we are very happy with your company's service: professional, quick, friendly, helpful and reliable."
"Just wanted to let you know, my new sunglasses arrived today, they look even better than I imagined! All good! While it is a pity that the UK has left the EU, and I had to take care of the customs payment myself, I must say that communication from you and from the transportation company was excellent, and all worked smoothly. Thank you for the quick processing of my order."
"Just wanted to say a massive thank you for everyone's part in getting these samples to us so quickly, cheaply and in one piece – Hooray!! They look absolutely amazing, my most favourite range we've ever developed, we will definitely use them at the showcase as a great example of teamwork."